Main Class:
Compete 3 Rounds of 1 Minute of max reps of each of the following exercises:
Wall Balls (20#/14#)
Sumo Deadlift High Pull (75#/55#)
Box Jumps (20″)
Push Press (75#/55#)
Row for Calories
* Rest 1 minute between rounds. Score total reps and reps per round
Advanced RX Class:
21-15-9 Reps of the following for time:
Deadlifts (225#/155#)
Overhead Squats (135#/95#)
Results
View this photo
View this photo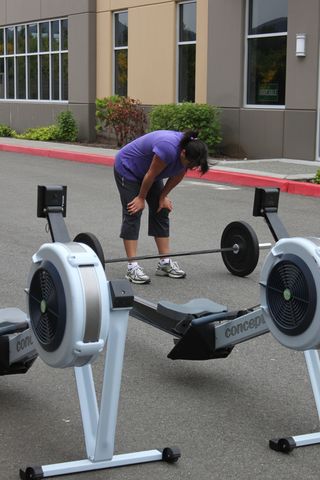 I had a couple of opportunities for some great pics today but no card in the camera = fail. The rest pic above sums it up though.
FGB is a hard WOD. It's max effort output for 5 minutes. Rest. Repeat three times. If you are hard enough to try the Championship edition it's five times. This WOD came about in the early days of CrossFit at the original HQ (CF Santa Cruz). BJ Penn came to train there and this workout was put together to help simulate the effects of stepping into a ring. After completing this WOD the story is when Penn was asked what he thought of it he said "It's like a fight gone bad."
We will be programming this WOD again come September 17th for FGB 6. It will be our third year of hosting this annual challenge and fundraiser that all of CrossFit participates in worldwide. Go here for more details and plan to participate. We will host for not only our gym but several other boxes we plan to invite. The SRCF team is created. Go register and create your own fundraiser page and join the team. It's going to be epic! You won't want to miss it!
Ash demos the Kettlebell Sumo Deadlift High Pull:
Sumo Stance, flat back
Weight in the heels
Use the hips to fully extend to allow the weight to finish with momentum in a high pull
"Friends First, Team Second: CrossFit Raleigh"