For Time:
50 Box Jumps (24″/20″)
50 Jumping Pull-ups
50 Kettlebell Swings  (35#/26#)
50 Walking Lunges
50 Knees to Elbows
50 Push Press  (45#/33#)
50 Back Extensions
50 Wall Balls (20#/14#)
50 Burpees
50 Double-Unders
Results
View this photo
View this photo
Open hips, good swings and chin over: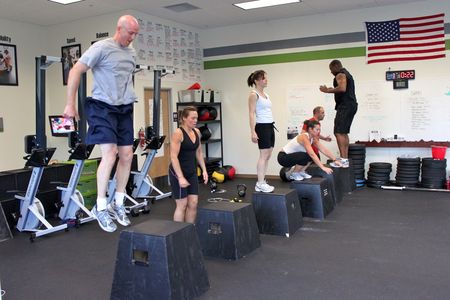 The mother of all chippers. Yes blame me. Solely me. I programmed the week out and thought we needed a chipper. A hard one. Prior to choosing this I thought, "What haven't we done in a long while. Hmmm, I hate the Filthy Fifty, I have no desire at all to do this one, it would be a great way for everyone to start the week. Why not?" Plus a few of you had even asked when they would get a shot at it. I went to bed without telling Michelle the WOD so that she wouldn't attempt to change my mind. So when we woke up this morning Michelle asked what the WOD was I told her and got the patented Michelle "Really? Seriously?" quote. I then darted out of the house before she could kill me. Suffice to say judging by the turnout I guess you all (Michelle and Moe included) don't hate me as much as I imagine. Looks like I will need to try harder.
Here's the post from the last time we did it. 
Notes:
Today we set a box PR! We had 32 people for the WOD and 4 for Elements! Welcome to Michelle D., Annette, Natasha and Doug who all started Elements together.
This Saturday the 9am Affiliate Team time slot is cancelled as we will be at an exclusive Art Show at our daughters school. Class will be on at 10am and 11am. Affiliate team show up and train at either time with the Saturday WOD.
Paleo/Zone Nutrition Challenge Winners (Rona, Rob S. and Jim M.) pick up the pot winnings tomorrow at the box. Rachel see us for your shirt and also to schedule your BodyFat Test.