Three rounds, 21, 15, 9 reps of the each of the following for time:
Thruster (95#/65#)
Pull-ups 
Results 
View this photo
View this photo
"Fran":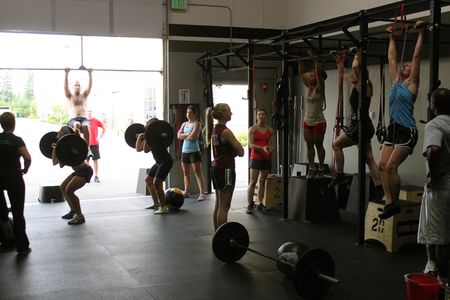 Quote of the day:
Maverick: "I feel the need…
Maverick and Goose: …the need for speed!"
Ideally "Fran" is a sprint. This benchmark WOD has been done more than any CrossFit workout out there. It's a good workout that motivates you to go faster and comes down to nothing more than moving continuously as fast as possible. It's a mental struggle that has to be fought to hold onto the bar, speed up the thrusters, and not stop for a breath. Physically this WOD becomes temporarily more uncomfortable the faster you go. At some point if you CrossFit you have to do this. It's almost a "rite of passage" workout. Congrats to all who completed this for their first time today, to all who hit a PR and to the couple (Laura and Willy) who RX'd it for their first time. Beasts all of you!
Some stats on Fran on beyondthewhiteboard.com:
There are over 22k recorded results
Mean: 7 mins 22 secs 
Median: 6 mins 53 secs  
Standard deviation: 3 mins 18 secs
Fastest men's result: 2 mins
Fastest women's result: 2 mins 31 secs
Mikko Salo does "Fran" video in 2:16
Notes:
SUP Headcount is 25 plus. Looks like we may need to get some more paddleboards! This is going to be awesome! Pricing will be $25 or less per person at this point for a lesson and some paddle time.
* RSVP to the Facebook Event for SRCF Members for SUP and Picnic Day