Three rounds, 21, 15, 9 reps of the each of the following for time:
Thruster (95#/65#)
Pull-ups 
Results 
View this photo
View this photo
Community Coaching – what today was all about: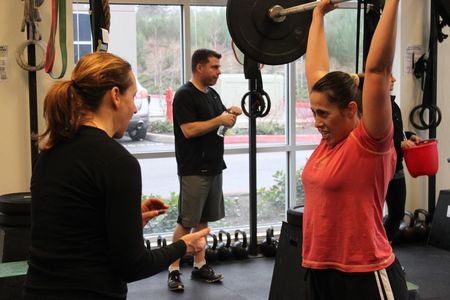 Jana coaching and cheering on Nadia
Today was FRAN-TASTIC! Congrats to all the first timers who hit this Benchmark "Girl", as well as to all who PR'd! The intensity was high right from the warm-up for the early group training for Sectionals Qualifiers and carried on through the morning class. There was a great vibe of coaching, cheering, concentration, and support in the box the entire morning. Ensuring everyone had a judge/coach was vital to eliminating "slop" and making sure only good reps were counted. Way to kick Fran in the ass and send her on her way!
Enjoy your weekends, eat clean, stay strong!
From the CrossFit Archives:
Watch "The Story of Fran" with Coach Glassman, a CrossFit Journal preview video [wmv] [mov]
"Virtual Fran" Experiment – video [wmv] [mov]
Flickr Album of some highlights from today: