For time:
21-15-9 reps of the following
Thrusters (95#/65#)
Pull-ups
Results
Day 5 of the Burpee Challenge!
Start the timer already: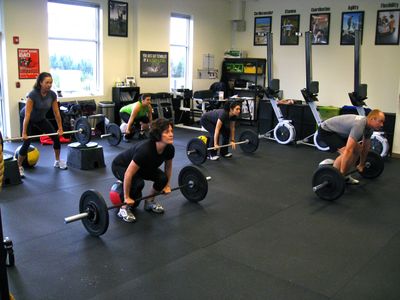 Nan and Jeremy doing pull-ups:
I hate "Fran". There I said it. Not our friend Fran who we all work out with. I am talking about the benchmark WOD. As I sit here tonight thinking of what to write about this workout I can't help but cough. Not from being sick, but from a certain couplet of Thrusters and Pull-ups that when done at high intensity as fast as you can leaves you feeling like you have "smoker's cough". It also can leave you flat on the floor or speechless and gasping for air. Your forearms likely feel like you attached a bicycle pump and inflated them like your car tires. This WOD is one of a couple that for me personally pushes me to my most uncomfortable limits. It's like an all out sprint up a very steep hill that the top is just out of reach. It's overrated, it's hard, and it's just another workout. It is however an effective one in an absurdly small amount of time. So what else could I write? Well, I remembered I already wrote a description of "Fran" from when we did this back in August (see the previous post). 
Several PR's today and impressive performances (check the results today vs. the last time on the other post). A few to highlight are Michelle (improved 1 1/2 minutes), Moe (4 minutes), and Travis (6 plus minutes!) all shaving their RX'd times. Jim C. and Jeremy also moved to pull-ups to complete this RX'd and get on the leaderboard, along with Moe. Last but not least, while everyone who did this previously can point to an improvement, our very own Fran showed the most impressive gains. She doubled her weight from last time (20# to 40#) and went from jumping pull-ups to a white/blue band assisted pull-up in virtually the same time (from 8:04 to 8:32). That is more than double the work in the same time frame. Talk about power output!
Travis in a post Fran daze: