Creepy Combination for time of:
400m Run 
21 Kettlebell Swings (53#/35#)
12 Pull-ups
400m Run
15 Overhead Squats (45#/35#)
30 Wallballs (20#/14)
2 Rounds of Cindy: (5 pull-ups, 10 Push-ups, 15 Squats per Round)
50 Push Press (45#/35#)
50 Walking Lunges 
Results
View this photo
View this photo
View this photo
Costumes Assemble!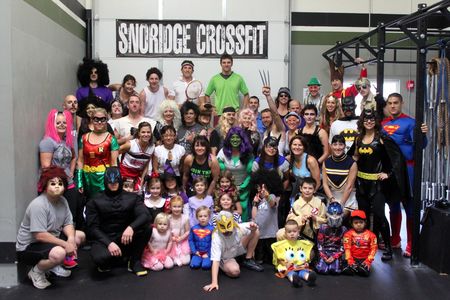 Goofy: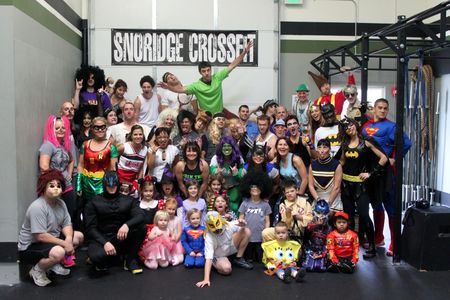 The Frankenchipper is a combination of benchmark "Girls" WOD's. Like Frankenstein it's part "Helen", "Nancy", "Karen", "Cindy", and Filthy Fifty. This WOD is a quick gasser that's light but challenging. More so when you have a costume on. We had a huge crowd of 3 waves plus CF Kids all in costumes and ready to rock on Saturday.
Speaking of rocking, we also had our 3rd annual Halloween party at our "haunted house" last night (pics later). Open to the whole box, we had some creative costumes and characters and a good time. Michelle, Ash and I had a blast hosting lots of great people with delicious and mostly paleo food and hilarious costumes. If you missed it then plan on next year "Same or better" (as Teri says)!
REMINDER: NO PM Classes on Monday 10/31. Classes at 0830, 0930 and 1130 only. Happy Halloween!
No Rep by Wolverine:
Ruh Roh Scooby chin doesn't count!
Notes:
Halloween twist on a Main Site WOD of 1 Rep Max Clean/Bench Press/Overhead Squat with Games Competitor Aja Barto – video [wmv] [mov]
Super Chicks: