Creepy Combination of:
400m Run 
21 Kettlebell Swings (53#/35#)
12 Pull-ups
400m Run
15 Overhead Squats (45#/33#)
30 Wallballs (20#/14)
2 Rounds of Cindy: (5 pull-ups, 10 Push-ups, 15 Squats per Round)
50 Push Press (45#/33#)
50 Walking Lunges 
Results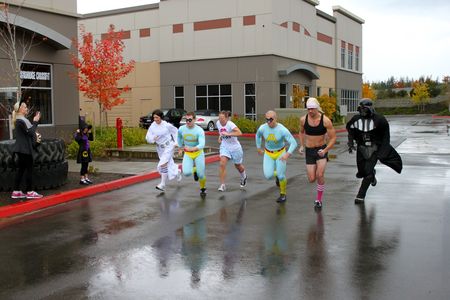 Vote for the best overall costume by posting to comments. Winner gets a prize!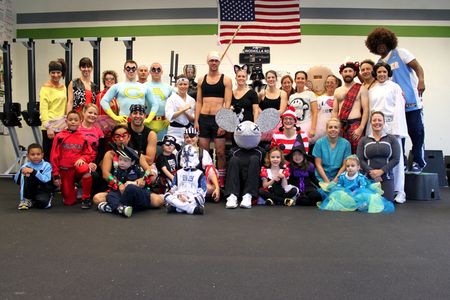 My apologies for slacking off on the post; too much partying this weekend!
The Frankenchipper is a combination of Frankenstein like parts. Part "Helen", "Nancy", "Karen", "Cindy", and Filthy Fifty. While it's light and fast it's still a challenging WOD. Even more challenging when you have a costume on. Great turnout Saturday, awesome costumes, and lots of fun. Already can't wait for next year!
We also had our annual Halloween party (I can say annual now that we had our second one) in our "haunted house" last night with many who couldn't make the Frankenchipper WOD as well as many who did. We had a blast and once again there were great people, amazing food, more costumes, and a really fun time for Michelle and I. If you missed it then plan on next year and maybe you will have the luxury of meeting the "flashing grandma".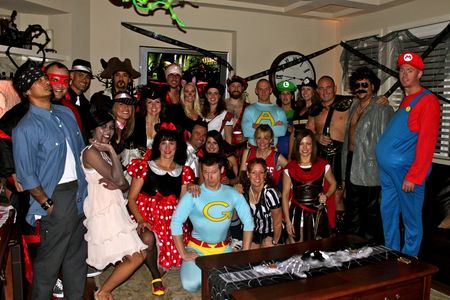 Enjoy the Photos:
Notes:
Remember class times change starting this week! See the schedule link for updated schedule.
Monday through Thursday: 5pm and 6pm classes daily!
Tuesday and Thursday ONLY: 5pm, 6pm, and 7pm class
Wednesday: the 7:30am class will move to 8am
All other classes not mentioned above (Monday to Saturday) will stay the same
Click the Schedule link for more info
How fun does this WOD look? CrossFit.com 11-01-10 WOD Demo by Pat Burke and Matt Chan [wmv] [mov]