Creepy Combination for time of:
400m Run
21 Kettlebell Swings (53#/35#)
12 Pull-ups
400m Run
15 Overhead Squats (45#/35#)
30 Wallballs (20#/14)
5 pull-ups
10 Push-ups
15 Air Squats
5 pull-ups
10 Push-ups
15 Air Squats
50 Push Press (45#/35#)
50 Walking Lunges
Results
View this photo
View this photo
Our 6th Annual Frankenchipper! (photo by Rob W.)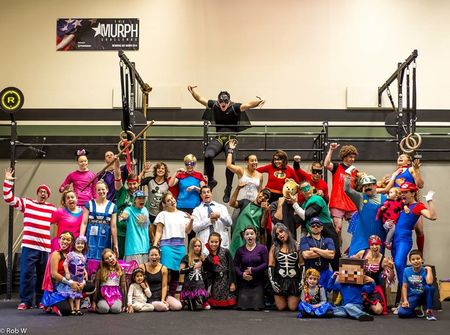 Saturday was our SRCF annual tradition costume-required "Frankenchipper"! The Frankenchipper is a combination of benchmark "Girls" WOD's. Like Frankenstein it's part "Helen", "Nancy", "Karen", "Cindy", and "Filthy Fifty". This day is one of my favorites to see everyone in costume and trying to work through the gasser of a workout. Thanks for the big turnout.
We also had our 6th annual Halloween party at Castle Black! Open to the whole box and friends who hail from the Seven Kingdoms of Westeros; we had a great party of entertaining characters, paleo-faileo food, strong drinks and a good times. Daenerys of House Targaryen and Jon Snow of the Night's Watch thank you all for coming!