Happy Birthday Anna!
This birthday WOD is a spin on the "Filthy Fifty" and "Dirty Thirty". For those who haven't done those two rest assured you'll get the chance.
For time:
40 Wall Balls (Hand Release)
40 Kettlebell Swings (53#/35#) 
40 Jumping Pull-ups
400m Run 
40 AbMat Sit-ups 
40 Dumbbell Hang Power Cleans (40#/25#)
40 Overhead Walking Lunge (45#/25#) 
Results
Birthday Bash SnoRidge Style: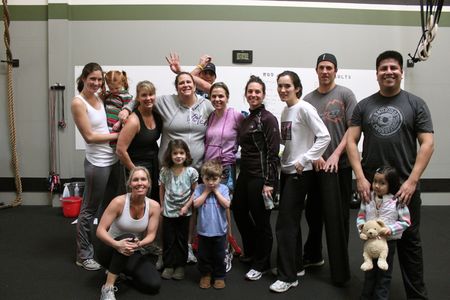 Quote of the day: "Can't is the cancer of happen." ~ Charlie Sheen
Don't ever let someone tell you that you "can't". Put your mind to it, work hard and make it happen. Faith and drive can take you down new roads. Watch this video for a story on not listening to "can't":
"I Was Told I Couldn't" with Euan Robertson – video [wmv] [mov]
Zombies Invasion or Overhead Walking Lunges?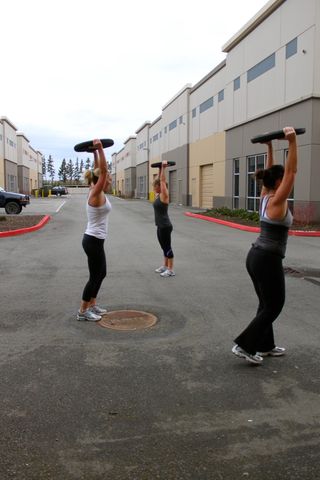 Notes:
Two upcoming events on Saturday 3/12!
– SRCF Grand Re-Opening Potluck and Box Open House: 
NO 10am class!
11am-3:00pm Saturday 3/12 (this will allow for those of us running the St. Patty's Day 5k)
Bring a dish and do a WOD. We will run a WOD in waves for those interested.
Hang out, bring a friend, socialize and have a good time with your fellow CrossFitters
TBD: Hope to have a lululemon Trunk Show upstairs during this time (cross your man-pri's!)
– Finaghty's 5k and Kids 1k St. Patty's Day Race in Snoqualmie Ridge:  
Click HERE to register online. Online registration closes at 11:59pm, Monday, March 7th. Let us know if you are running!
 

Pre-Registration (ends Monday, March 7th)
Kids 1k — $10 (includes a free cotton t-shirt and finisher's medal)
5k — $25 (includes tech shirt)

Late Registration (add $10 for 5k and $5 for Kids 1k – shirts not guaranteed)

Friday, March 11th at FootZone from 1-6pm (Issaquah Location ONLY)

Day of Race Registration – Begins at 7am at Start Line on Center Blvd on Snoqualmie Ridge

 

Race Day Schedule
7:00-8:45a.m.- Bib Number Pick Up & Day of Race Reg 
9:00 a.m. – Start of Kids 1k Run
9:15 a.m.- Start of 5k
10:15 a.m.- Awards Ceremony