Strength WOD:
3-3-3-1-1-1
Hang Power Clean
Conditioning:
3 Rounds for time of:
15 Hang Power Cleans (135#/95#) 
15 Burpees
Or
3 Rounds for time of:
15 Hang Power Cleans (165#/110#) 
15 Burpees
Results
View this photo
View this photo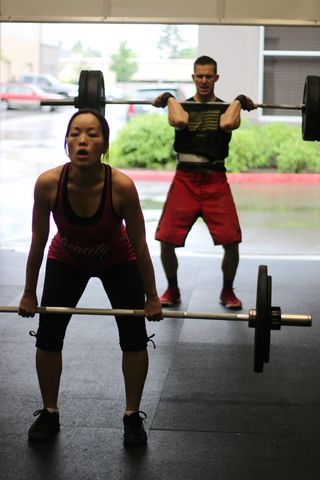 Lots of PR's on Hang Cleans today. Shrug and pull under with fast elbows is the key. As the load increases, think about progressively squatting a little deeper while staying above parallel for a power clean (you don't want to jump wide).
Sequence of Bill being awesome:
Why do we do Hero WOD's like Murph? To remember. This one is worth the read:
Memorial Day Hurt by Hilary Achauer – CrossFit Journal article [pdf]
Monday Schedule:
Monday, May 26th, we will be hosting the annual Murph Challenge 2014. 
0830, 0930, and 1030 classes only 
No PM classes! 
Sign up in the gym on the whiteboard for your time slot 
If time slots fill up we will still make sure everyone gets to go!
"Murph" WOD:
Run 1 mile
100 Pull-ups
200 Push-ups
300 Squats
Run 1 mile
* Break up the pull-ups, push-ups, and squats how you want. Wear a 20# vest if you have it.
** Half Murph strongly encouraged for your first time. (all distance/reps cut in half)
Potluck/BBQ details:
After all the heats are done at 1230 we are also having a potluck/BBQ lunch
We will have "Lone Survivor" to play on the TV as well as we will replay Regional streams
Bring a dish to share or whatever you want to grill and eat for yourself. Thanks to Spencer and Jim Mc for bringing their grills! (See how I did that?)