Strength WOD:
Front Squat
3/3/3/3/3
Checkout WOD:
For time:
30 Bodyweight Front Squats 
1 Mile Run
Results
Rocking the Front Squat: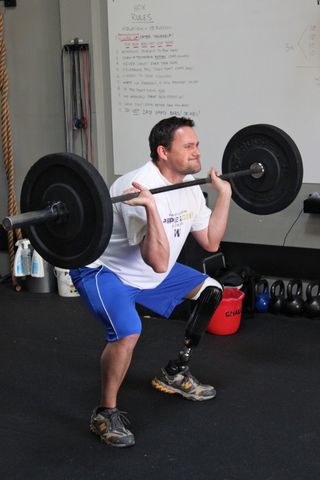 Lots of ringing the PR Cowbell today! Huge PR's on front squats today all around.
Wrists, elbows, hips and legs tight? Are they limiting your movement in the front squat? How about your shoulders or hips or knees? Ever realize how being tight and inflexible influences your ability to move properly?
You are in luck! Next Wednesday we will start a Movement & Mobility class that Rona will run. If you want to squat, press, run, pull, and push better than this class is for you. Details here:
This structured and coach led class will focus on stretching, flexibility, mobility and the techniques you can use to improve your range of motion, work through your tight areas and explore your inner pain cave! Learning to prepare your body properly for a WOD will help you maximize your performance. 
Improve range of motion in those muscles and joints 
Enhance recovery and get you back to working out or setting new PR's or learning to move correctly
When: Every other Wednesday starting 5/25 from 7-8pm
Cost: 

Unlimited members class is free
2x Weekly members cost is $20 per month (2 classes per month)

How: Sign-up REQUIRED on MindBody Online each class
Class Size: Limited to class size of 10 people (Must register online at above link for each class)
Notes:
The Workouts for the Reebok CrossFit Games Regionals have been announced.
Northwest Region Update for the CrossFit Games
CF Games and Regionals SRCF T-Shirt order goes in tomorrow. If you want one you better let me know before I order or you will be SOL. Time!