Strength WOD:
EMOM (Every Minute On The Minute) for 10 minutes complete:
2 Clean & Jerks (Squat or Power, Split or Push)
Conditioning WOD:
2 Rounds for time:
600m Row
30 Pistols 
20 Box Jumps (24″/20″)
Results
View this photo
View this photo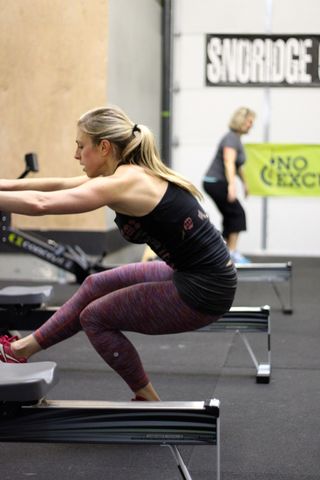 Either Full or Power Clean. Work today was on getting from ground to overhead efficiently and as perfectly as possible with a consistent load 20 times over 10 minutes. 
Congrats to Kyle for hitting WOD #100 tonight!
Schedule Update:
I missed a change to the schedule for the next two weeks. There will be NO 0630 (that's 6:30am) classes on Thursday for the week of Christmas and New Year's (Tuesday of each week we are closed anyways). Coach Moe will be on vacation hunting for unicorns and fairies while the rest of us celebrate the holidays.
Schedule:
Christmas Week:
12/24 Christmas Eve – Two Class times 0930 and 1030 with sign ups. (Stay tuned for updates or an additional slot)
12/25 Christmas Day CLOSED no classes
12/27 6:30am Classes are cancelled Thursday, all other classes on schedule
New Year's Week:
12/31 New Year's Eve – Two Class times 0930 and 1030 with sign ups. (Stay tuned for updates)
1/1 New Year's Day CLOSED no classes
1/3 6:30am Classes are are cancelled Thursday, all other classes on schedule
Nutrition:
"A Massie Christmas Dinner," CrossFit Journal videos –
Chipotle-Maple Holiday Ham – [wmv] [mov] [HD mov] [pdf]
Sweet Potatoes Anna – [wmv] [mov] [HD mov] [pdf]
Chocolate Decadence – [wmv] [mov] [HD mov] [pdf]
Raspberry Coulis – [wmv] [mov] [HD mov] [pdf]