Main Class:
Partner up and alternate so each person completes:
8 rounds (each partner) for time of:
10 Dumbbell Snatches – Alternate arms (45#/30#)
100m Sprint
* You must complete 5 burpees each round while your partner completes their round. 
** Burpees can be completed any point during the time your partner is completing their round but if they return and you have not done them you cannot begin your snatches until they are done.
Advanced RX Class: 
As many rounds as possible in 15 minutes of:
2 Power Cleans (Bodyweight)
4 Handstand Push-ups
8 Wall Balls (20#/14#)
Results 
Synchronized team work: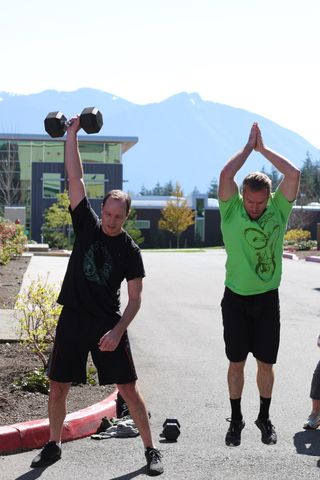 Spencer picks things up and puts them down:
Saturday was perfect for some snatching, cleaning and running. I got to wrap up our latest OnRamp early and then follow that with two big classes while Michelle got the kids outside for the start of the latest CF Kids session. The kids squatted, ran, and planked their way through 5 rounds of butt kicking fun then played musical wall balls for their game. Ash was complaining like the rest of us all day today about how sore her legs were which made me one proud CrossFit dad. 
April OnRamp is concluded and we want to give a big welcome to Katie, Greg, Seth, Amy and Jimmy. We hope to see each of you stick with it and build on what you have learned and accomplished so far. Our next OnRamp will be starting on Tuesday, May 1st. If you know someone who is interested tell them to contact us!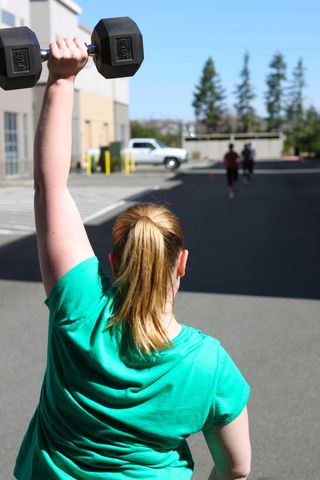 Hope this sun sticks around as we have a fun week planned and we will kick the week off with a benchmark…
CrossFit For Hope Fundraiser, June 9th