5 Rounds For Time:
10 Power Clean (135#/95#) 
15 Push-ups
Results
Travis and Tara cleaning and pushing: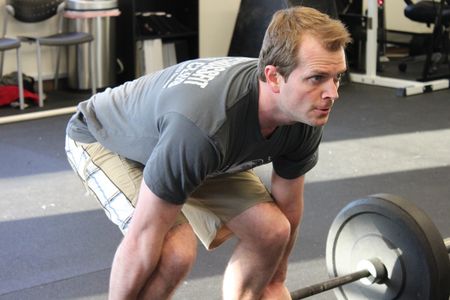 I love this WOD! It's one of my favorites.
This Saturday we are CLOSED! 
In case you haven't heard we will be competing at the Northwest Regionals for the 2010 CF Games at the Puyallup Fairgrounds.  The top 75 male and 75 female athletes from Sectionals competitions from Washington, Oregon, Idaho, Utah, Nevada and Alaska will be competing to send 3 men and 3 women to Los Angeles in July to compete in the Games. There will be 35 or so Affiliate teams (including SnoRidge) who will also be competing to send the top 6 teams on for the Affiliate Cup. Last but not least will be the Masters Competition where CF'ers over age 50 all around the world are vying at their respective Regionals to advance the top 15 worldwide for the 1st ever Masters division competition. 
If you plan to come then you can purchase tickets at the door but it will be cash only. Look for your fellow "Squatches" when you come into the arena. There will be plenty of vendors, food and free parking available. See here for more event details. This weekend is shaping up to be loaded with great weather, big effort and big fun! We hope to see you all there!
Notes:
Come tomorrow and help celebrate Lucy's special day with her birthday WOD!
A few of you are SO close to your 100th WOD so remember to tell us when you hit it!
Watch the women's competition at the North Central Regionals preview from the CF Journal [wmv] [mov]
By the way we love the feedback that many of you have been inputting into the site on the "feedback tab" (over on the left). We read and discuss all of the ideas and are trying to figure out ways to incorporate them!