Remember you don't need to "get in shape" to start CrossFit!  Showing up for that first workout is the first step to greater fitness, no matter what level you are at. Sticking with it with consistency is the key to seeing results.  Why wait? 3-2-1 Go!
Please contact us to get started and find out our next OnRamp start date!  Slots fill QUICKLY!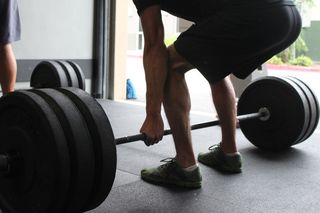 This will consist of instruction and practice of the foundational movements you will utilize often in CrossFit.  They are the building blocks that you will master that will enable you to complete workouts with power, technique and intensity.
Our OnRamp is a 6 session program designed to allow for more instruction and coaching with beginners for a longer period of time. We feel this benefits the newcomer from feeling overwhelmed, intimidated, or reluctant to joining large group classes after they start. We think an extensive entry program can only help set up the new CrossFit athlete for longer term success. 
A common question we hear is "Do I have to be in shape to start CrossFit?" The answer is a resounding NO. Regardless of athletic ability, we use scaled versions for all movements that will allow you to master the technique, develop the range of motion, and build the strength needed to progress to the full movement or exercise.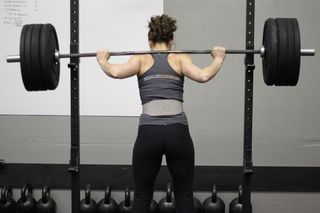 As you progress in your training we will incorporate more training and instruction on advanced body-weight and weighted movements. OnRamp movements include weightlifting, gymnastics, and cardiorespiratory endurance exercises such as squat, front squat, overhead squat, clean, snatch, press, push press, push jerk, deadlift, sumo deadlift, box jump, medicine balls, kettlebells, push-ups, pull-ups, rings, sit-ups, lunges, rowing, running, jump rope, and more.
OnRamp consists of the following:
Limited to 6 people per On Ramp in a group format class
6 one hour classes for 2 weeks (Tuesday and Thursday nights at 7pm and Saturdays at 8:30am)
Stay tuned for future OnRamp dates. Typically OnRamp runs the first 2 weeks of the month.
Classes run in order and

you need to be available for all six lessons.

  Please make any necessary arrangements to make this happen as we typically will not be able to reschedule these. We are asking for 6 hours of your time. (As this is a small group instruction format, it is necessary to adjust your schedule to attend them all)
You will be learning something new each lesson and each one builds on the one before.  
Instruction and coaching on the fundamental movements used in CrossFit. Our coaches are certified to teach, scale, and coach the proper mechanics, technique and standards of movement. We will COACH you. Not just turn on a timer and disappear.
We focus on drilling technique and safety before ramping your intensity levels or increasing weight
Each class ends with a CrossFit workout that will build upon what you have learned to date and is scaled appropriately to any fitness level
Review of the benefits of tracking your workouts and training, utilizing mobility and flexibility to aid in workout preparation and recovery, and basic overview to the types of CrossFit workout programming (metabolic conditioning, strength training, max effort/reps, etc.)

OnRamp Cost:




Cost: $175 (plus tax)

Includes: 6 OnRamp Classes (1 hr. each), plus the remaining 2 weeks of the month with free unlimited classes (30 days from start of OnRamp) and the SRCF/Whole9 Nutrition Guide

Upon completion and graduation from OnRamp the last two weeks of the start month are included (30 day period from the OnRamp start date) before needing to choose between continuing into our daily group classes with either of our monthly memberships; unlimited or our 2x weekly membership plan.

Click on the following link for more info on our Class Schedule and Fees

Click here to Pay for Training

 

Click to download and complete our health assessment and liability waiver. Bring it in with you on your 1st OnRamp class: 

 

SnoRidge CrossFit Health Assessment and Liability Release Waiver