As Many Rounds As Possible in 20 Minutes:
5 Pull-Ups 
10 Dumbbell Lunges (30#/15#)
15 AbMat Sit-ups 
Results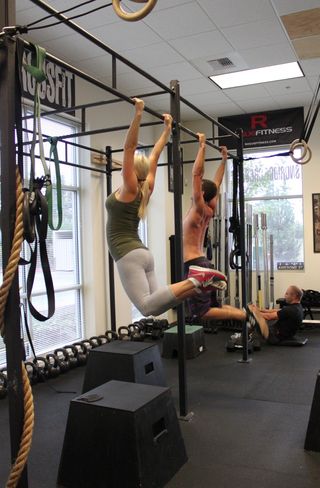 "Those who think they have no time for bodily exercise will sooner or later have to find time for illness" – Lord Edward Stanley
I am motivated. Today was a good day to recharge the CrossFit batteries. Not that they were out of juice but it was a good boost. What did it? I was fortunate enough to attend a CrossFit Goal Setting Seminar by Greg Amundson. I left inspired. For those of you new to CF, he is the original "firebreather". He was the guy that put up insane times many years ago when CrossFit was just a box in Santa Cruz with a handful of people who followed the WOD's on the internet. Greg was the guy that set the standards and he is still crushing WOD's today.
CrossFit Advantage hosted the seminar today and we were able to get a few seats and bring some peeps from our box (Rob, Rona, Jeremy, Mark, Kim, Cristin – whose brother owns CF Advantage). It was a great reminder of how to set specific, measurable, achievable, realistic, and time specific goals all while focusing on the power of positive words and what negative self talk can do to you. How many times before a WOD have each of us thought or said "This is gonna suck" or "No way I can do this or make the lift" or "I really don't think I can RX or PR today"?
Believing you can't means you can't. Next time you think those negative words instead try "I can do this today" or "I'm gonna PR" or "I will make this lift". It's contagious. It can work. At least it will put you in the right mindset to make things happen. We are fortunate in that our box already is filled with people saying "let's do this". Let's keep that up! We are a powerful community that motivates and inspires one another every single WOD. On those days where we may not quite "have it" try to be positive, search for that belief in yourself and that voice to say "I can". If you hear someone else doing it then call them on it. Your trainers too. 
There is a "Goals" board on the bathroom door. Grab a dry erase marker and write yours down. Whatever it is, capture your CF goal and put it up there. Make it realistic, set a baseline, set a deadline, then get after it. 
Epic Fail: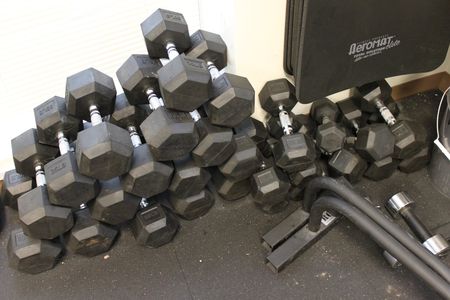 Coaching Tip:
"Putting Things Away" or "Go To Your Room and Don't Come Out Until You Realize What You've Done"
Before grabbing the equipment note the position and place and ordered appearance it resides in
Using good stance, grip, and position pick up the equipment and set up for your warm-up/WOD
When complete, clean it up (disinfecting it if it has been turned into a human "slobber-ball" from your sweat, blood or tears)
Return in

neatly

back to the place it came from
Take a second look and ask yourself, "Self? Does that look like it did when I took it out for the WOD?"
If the answer is no, see Tip #4 above
Next time the warm-up will be "Gym Clean-up". For time!