Skills WOD:
12 Minutes:
Goat Practice
* Pick a skill you NEED to work on and do it.
Conditioning WOD:
For Time:
750m Row
100 Wall Balls (20#/14#)
750m Row
Results
View this photo
View this photo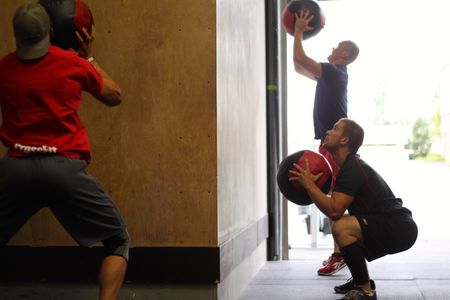 Congrats to Coach Mark who used his fitness and competed this past weekend in Seattle at the "BeastFest" and battled through 5 WOD's to finish in 2nd place! He had a tight battle for that podium with some pretty fit men and fellow Regional competitors. Way to kill it Mark!
Mark at BeastFest on the Harbor Steps WOD: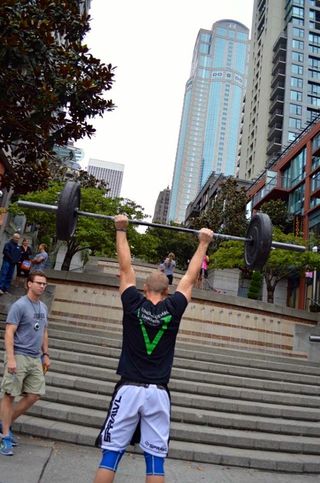 The Reebok Life – Ben Smith Ben Smith does a WOD at Reebok HQ and misses his fridge. (For those who don't "get it" Ben trained in his small garage gym squeezed in front of a fridge through multiple Games years. The fridge became an icon.)
Nutrition:
The Advocare 24 Day Challenge starts Saturday 9/28!
What is it? The AdvoCare 24 Day Challenge is a nutritional supplements bundle that is designed to help you detox your body, lose weight, lean out, and improve your health. Fall is here! It's the perfect time to recharge your body and health and create good habits before the holidays! 
Details:
• The Cleanse Phase: Days 1-10 
This phase helps remove waste, preparing for optimal nutrient absorption.
• The Max Phase: Days 11-24 
During the Max Phase, you'll give your body the best tools to achieve your weight-management goal.
The benefits of the Advocare 24 Day Challenge:
• It can be designed for everybody! Whether you are looking for weight management or if you are already fit and want to lose a few inches and lean out.
• Average person loses 10 pounds, 10 inches, & an average 3-4% body fat in 24 days.
• Removes toxins from your body.
• Discover hidden food allergies.
• Naturally replace harmful Candida in the gut with beneficial organisms.
• Reduce inflammation in the GI tract.
• Establish positive eating habits.
• Look and feel great!
• The 24 day Advocare Challenge helps you establish healthy eating patterns, improves digestion and nutrient absorption, and identifies foods that the body cannot properly digest.
Most common transformative changes:
• More energy
• Weight loss in weight and/or inches
• Less Inflammation/Less Pain
• Better Digestion
• Improved Mood
Common questions:
*Yes, you still workout! You do everything in your normal routine.
*Yes, you still eat the same. Unless you eat like crap. Then, I would suggest cleaning up your diet. And, there are no "specific rules" but it is a detox so it is recommended that you cut out alcohol.
*Yes, non-SRCF peeps can participate! If your spouse, your family member, your neighbor, your friend (etc) is interested in doing the 24 Day Challenge please pass on the information. They are welcome to play with us!
*Upon completion of the 24-Day Challenge™, these products can continue to be taken every day as part of a healthy lifestyle.
The COST of the 24 Day Challenge is $253.25 + tax. 
The 24-Day Challenge Supplements Bundle:
• One box of Herbal Cleanse – Citrus
• One bottle of OmegaPlex®
• One box of AdvoCare Spark® – Mandarin Orange
• One box of AdvoCare Spark® – Fruit Punch
• Your choice of one box of Meal Replacement Shakes 
• One box of MNS® Max 3, C, or E
• Two bottles of Catalyst®
That's only $10 a day! And remember, Spark replaces your daily coffee/tea, so you'll save that by not going to Starbucks!! You will also have Meal Replacement Shakes during your Max Phase so, again, that is money that you won't be spending.
This is an investment in your health…. The best investment you can make!
**Join us Saturday, September 28th at 10:30 for a short presentation on Advocare and the 24 Day Challenge. Find out about what these supplements can do for you and pick up your products! ** 
To sign up or for more details or any other questions see Michelle.