For time:
10 Strict Pull-ups
50 Wall Balls (20#/14#)
8 Strict Pull-ups
40 Wall Balls
6 Strict Pull-ups
30 Wall Balls
4 Strict Pull-ups
20 Wall Balls 
2 Strict Pull-ups
10 Wall Balls
Results
View this photo
View this photo
Pat proves he's superhuman simply by willing the medicine ball into the air: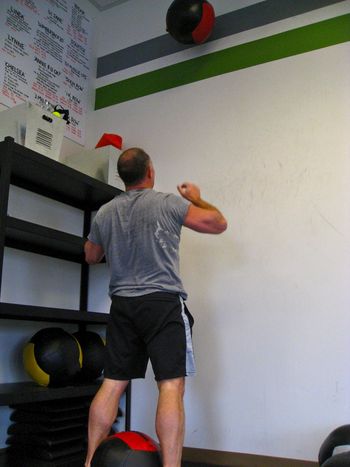 Anyone ready to set some goals? We have plenty of opportunities for you all in the coming days, weeks and months ahead. Set them now, write them down, and start working towards them. 
This Friday 2/5 will be the lululemon Trunk Show for you ladies as well as a goal-setting discussion led by the lululemon staff and Michelle. 
On Friday 2/12  at 6:30pm we will have our nutrition discussion with CFHQ's Todd Widman to kick off our next Paleo Challenge. 
7 week Paleo Challenge starts on Saturday 2/13 with weigh-in's, before pictures and buy-in's.
CF Games Northwest Sectional Qualifiers are coming at the end of February, with the Northwest Regionals and Affiliate Team Qualifiers in May. We will be selecting our team of 6 to represent the box in April.
The St. Patty's Day 5k run is 3/13 here in Snoqualmie Ridge.
The Cinco De Mayo 1/2 Marathon and 8k run is on 5/1 in downtown Snoqualmie.
We are working with Lucy and Rob to hold another Rowing Class in March. This will be similar to the last class and will focus on proper technique, form, and strategy on the erg.
100 WOD T-Shirts are now designed and will be available to purchase (at a discount) should you earn one! WOD's must be completed in the box (garage counts).
Double-Under Challenge: Starting this week through the end of February, attempt to beat your max reps consecutive double-unders each week. Practice them all week post WOD and then pick the time of your choosing to go for your new max in one attempt. 
Push-up Challenge: Starting this Saturday perform 5 push-ups. Add 5 each day until the end of the month. (i.e. 5 Sat., 10 Sun., 15 Mon., etc.) Break them up throughout the day if needed. Make-up rules apply like the burpee challenge.
And this is only the beginning! We have a whole year ahead of us!
If these races, discussions, classes, challenges and even shirts don't give you enough motivation, then watch the below video from King 5 Evening Magazine and see an example of how committing yourself to CrossFit and good nutrition can change your life.