Strength WOD:
3-3-3-3-3
Front Squat
Conditioning WOD:
AMRAP in 6 Minutes of:
5 Chest-to-bar Pull-ups
15 Air Squats
5 Box Jumps (30″/24″)
Then complete for time:
20 Hollow Rocks
30 AbMat Sit-ups
25 Hollow Rocks
25 AbMat Sit-ups
30 Hollow Rocks
20 AbMat Sit-ups
Results
View this photo
View this photo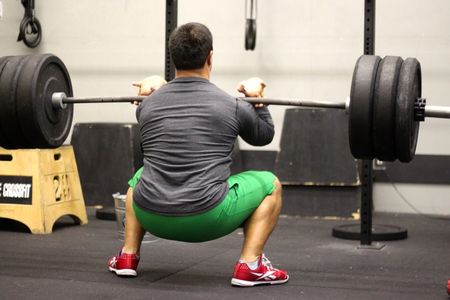 You know a WOD is really rough when any of three things happen; 1) it gets really silent for a really long time, with zombie stares on everyone 2) people flop over onto the floor like a dead fish at the end or 3) people start alternating between giggling and screaming during the workout. The hollow rocks and abMats brought out #3. Very entertaining.
Read:High Intensity: The Blurred Lines of Competing and Training www.tabatatimes.com