Strength WOD:
* Strength Warm-Up for "Gwen": 10 Min. max to prep unbroken C&J for 5 reps each.
For Load:
15-12-9
Power Clean and Jerk
Rules:
Choose a weight
Touch and Go only at the floor; no dumping (Rest only off the ground)
No Re-grip allowed
Rest as needed in between sets
Use same load each set to be RX'd
Conditioning WOD:
42 Air Squats
21 Hollow Rocks
30 Air Squats
15 Hollow Rocks
18 Air Squats
9 Hollow Rocks
Results
View this photo
View this photo
Photo by Rob W.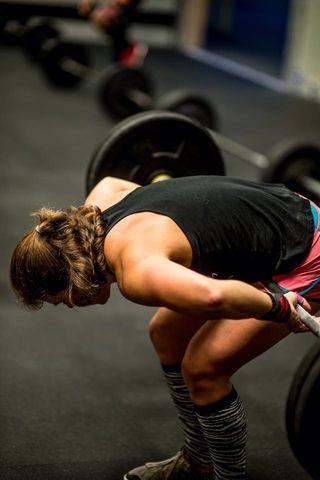 This WOD was an early mainstay in CrossFit prior to "Grace" or "Isabel". It became "Gwen" and has always been a strength workout where the goal is to pick a load, stay unbroken and touch and go off the floor. Resting as much as possible between sets allows you to attack each subsequent set at 12 and 9 unbroken reps. It's a much different training effect when you are forced to hold onto that bar or suffer a "foul". This is harder than Grace. It's common to start with a weight that is too heavy or hard to hold and going unbroken forces you to miss a lift and drop it. The benefit of a strength training workout like this is you learn your upper limits and test your technique.
Or if you are Frank then you don't pay attention and you do it for time. No rep…
2014's Fittest Men are Coming to ESPN