Main Class:
Strength WOD:
As a team of 2 alternate and take 12 Minutes to find a 1RM of:
Snatch
* One barbell per team. Change loads as needed.
Conditioning:
In a Team of 2 you have 10 minutes to complete:
Max Rep Power Snatch (95#/65#)
20 Double Unders
* Partner 1 starts on Power Snatch and Partner 2 starts on DU. While Partner 2 does DU, Partner 1 completes max reps of Power Snatch. Switch each time the 20 DU are complete. Keep a running total of PS reps.
Advanced RX Class:
Strength WOD:
5 sets of 1 + 1 + 2
Hang Power Snatch + Snatch Balance + Overhead Squat
* Complex
Conditioning:
For time:
100 Double Unders
30 Power Snatches (115#/75#)
20 Handstand Push-ups
10 Muscle-ups
Results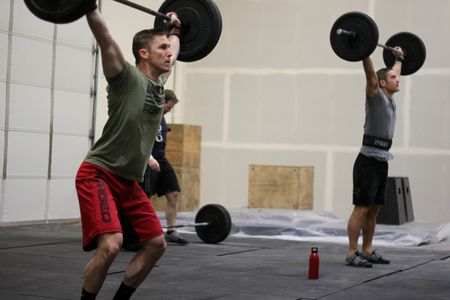 SnoRidge Family: We want to thank you all SO MUCH for the "Gym Expansion" warming gifts! You guys are so thoughtful and dedicated to making this place great. We wouldn't be growing to our 4th space if it wasn't for you! We are coming up on our 5th Anniversary. Thank you for making that possible! This will be going towards a better sound system. Much needed and very much appreciated!
Painting will be done Tuesday and flooring and rig assembly will be Wednesday/Thursday.
Sunday Going's On:
Coaches Continuous Improvement:
Lisa and I will be attending an Oly Lifting Clinic tomorrow at the Lab in Seattle led by Diane Fu of FuBarbell. We will be snatching, cleaning and jerking the day away while improving our technical proficiency, programming skill, coaching cueing and knowledge of the fundamentals of weightlifting.
Two weekends ago both Rob S. and Lisa also attended a seminar in Kirkland for PT's, Trainers, Coaches, and other roles in the area of Sports Medicine that taught the bio-mechanics of the shoulder and one lecture that specifically discussed the impact of CrossFit, the exercises we do, the common misperceptions and the value it plays in all aspects of strength and conditioning. 
These types of seminars lead to our coaches helping everyone in the gym become a better CrossFitter, lifter and athlete.
From Deb:
Hey Squatchers! If you didn't know, we have 2 teams competing in the Seattle Affiliate League which we'll go throw down for the next 3 Sundays. Tomorrow, both teams are in the 1:20pm Heat located at The Loft in West Seattle. Come cheer us on, free to watch but parking might be limited. Here's the Wods for tomorrow: Team Squatch (this week) Lindsay, Spencer, Jon and Deb. Team SRCF (this week) Rob S., Julianna, Josh H., Michelle. 
Team make-up will shift slightly from week to week based on a few others who are on the two teams.
Yesterday both teams spent some time learning the fundamentals of how to lift a stone and then how to properly perform the butt slap:
"The 18 Month Curse" Rainier CrossFit