Compete 3 Rounds of 1 Minute of max reps of each of the following exercises:
Sledgehammer Swing – Right Side (16#/12#)
Box Jumps (20″)
Sledgehammer Swing – Left Side
Hang Squat Clean (115#/75#)
* Rest 1 minute between rounds
Score total reps and reps per round
Results
Hammer Time: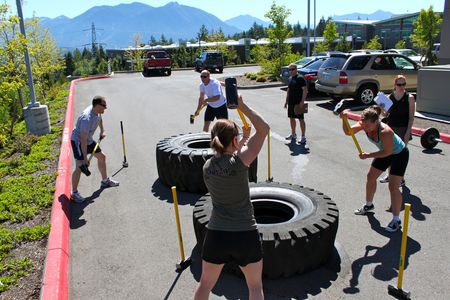 Max A$$ kicking:
Hammer Gone Bad is all about doing more work. The only way to get your score higher is to do more work. It was great to beat on a tire and get the hammers some use today. Being able to do it in the sun was a bonus. Doing this variant on Fight Gone Bad makes me realize it's been awhile since we've done the original version and that there are other versions out there we haven't done. Maybe that will need to change.
Notes:
First there were Sectional qualifiers in February, then Regionals last month, now it's time for best of the best to meet at the CF Games in July. 
Highlights from the CrossFit Games Sectionals competitions video [wmv] [mov]