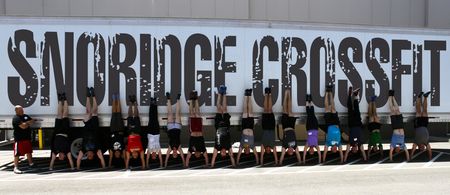 First off congrats to our Squatches Moe, Jill, Laura and Marc who all ran the Rock N' Roll Marathon this weekend and to our resident Dirt Corps riders Matt, Jim and Dan who raced in the Mt. Hood Downhill race and placed one on the podium, one just off it and one with a broken suspension fork. Good times all!
This weekend we also hosted the CrossFit Gymnastics Trainers Course taught by Coach Sean Lind. Michelle, Rona, Rob, Jeremy, Pat from SRCF along with 12 others from all over the country attended this 2 day course and received a healthy dose of quality coaching, quality movement and company with quality people. It was cool to be the host and get to hang out with several new and old faces while learning how to build better ninjas. 
As a group we spent two days learning basics, progressions, scalings, spotting and programming for what I suspect are just the tip of the pommel horse in gymnastics. The skills we practiced and began learning this weekend are so basic that what we consider hard are not even considered a skill in the gymnastics world (muscle-up anyone?). Although everyone wants the big powerful and sexy movements found in CrossFit it quickly became obvious that you cannot hope to achieve those without practicing the correct movement patterns frequently while building the requisite strength for the next movement. Learning that kipping pull-up or muscle-up or dip starts with building up the strength, skill, muscle memory, and the right range of motion to get to that next level. Earn that progression! The strength, power, balance and flexibility required are intimidating at first but once you practice and see how everything can be scaled it instantly becomes fun and you are just a giant kid in a playground. Personally I left with a longer list of things I suck at and need to improve. That's the nature though of CrossFit, you don't check a skill off your list without adding two more.
To Coach Sean thanks for the great weekend of fun and instruction and to everyone who attended we hope you thought it was well worth it.
"Handstand Push-up Drills With Jeff Tucker" by Again Faster Equipment, CrossFit Journal preview video [wmv] [mov]
The Tension of Competition at the SoCal Regional