Strength WOD:
Hang Power Snatch
1/1/1/1/1
Checkout WOD immediately after:
3 Rounds for Time: 
20 Hang Power Snatch (75#/55#)
20 Overhead Barbell Walking Lunge (75#/55#)
200m Run
Results 
Jana and Scott get extended:
Girl Power: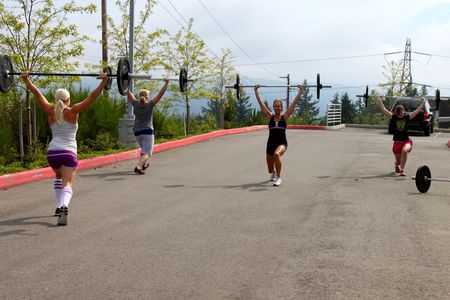 Tough warm-up, strength focus, then technique time with the hang snatch. This checkout was tougher than it looks. Moe certainly thought so (see the results pic for her quote on the Whiteboard). Spending time staying a little lighter proved valuable for many to break the "muscle-snatch" habit. Learning the Burgener warm-up is another key. Practice with PVC, stick or bar and groove the movements!
For those of us who were at the 5pm class; you got to see something really cool and rare for a CF gym. You got to see someone squat snatching more than their bodyweight. Sean displayed great form and technique pulling under the bar super quick to end up 20 pounds over his bodyweight. Doing it cleanly was even more impressive. 
Congrats to Sean who snatched 195 lbs.!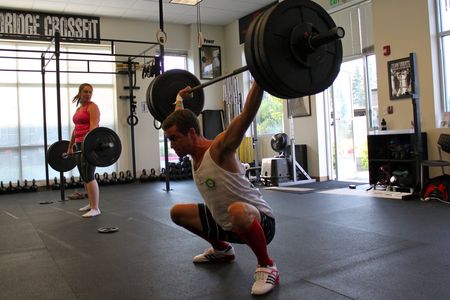 Notes:
Food for thought: Ever miss a rep in a WOD? Lose track of where you are? Or get so consumed with finishing that you honestly forget an entire movement or set? It happens to the best of us. Not intentionally, but it happens. The question is what do you do? How do you handle it? Would you knowingly count something that you know shouldn't have? Would you ignore that the whole purpose of the daily workout is to get fitter, to do all the reps as prescribed? Well fortunately, I think the overwhleming majority of CrossFitters would handle it with integrity. And so does this author.
Read "Self-Reported Versus Rigourously Judged WOD Results"
Also read CrossFit Redmond's short but well put post on the same topic "Not Counting Reps"
Fun video: Check out this ninja from San Fran CF! I would kill for 1/4 of his skills!