Strength WOD:
Hang Power Clean
3/3/3/3/3
Checkout WOD:
3 Rounds for Time:
10 Hang Power Clean (95#/65#) 
15 Push Ups 
20 Box Jumps (24″/20″)
Results
View this photo
View this photo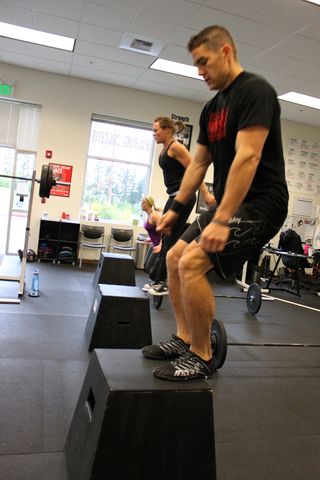 Jedi's in Training practice using the Force:
Memorial Day Weekend Schedule: 
Saturday will be normal class schedule and the first 8 who sign up for 10am get priority
Sunday closed
Monday schedule is: 0930 and 1100 class times

only.

 We will honor those who served or paid the ultimate sacrifice by choosing a Hero WOD (out of three choices). The start times are to account for potentially larger group and longer WOD times.
Here's a Men's Journal article that details a couple's preparations and gear for a 151 mile adventure race down in Australia. Scroll past all the gear they used to see how they trained (CrossFit endurance) and how they ate (Paleo Diet for Athletes) and drank (Coconut water). 
Also this month's Men's Fitness has a two page article on CrossFit and the editor's experience with realizing how powerful it is and fully drinking the Kool-Aid. In the same issue however I learned that I should always work Chest/Tri's and Shoulders together, followed by back/bi's, and legs separately. I also should do "cardio" 4 times per week for best results! That honestly makes two pages out of the entire magazine worth reading…
Laura training for her stair climbing challenge she plans to win this summer: