Strength WOD:
Hang Power Clean
3/3/3/3/3
Checkout WOD:
5 Rounds for Time:
10 Hang Power Clean (95#/65#) 
15 Push Ups 
100m  Run
Results
Lucy and Mollie high fiving it mid-WOD: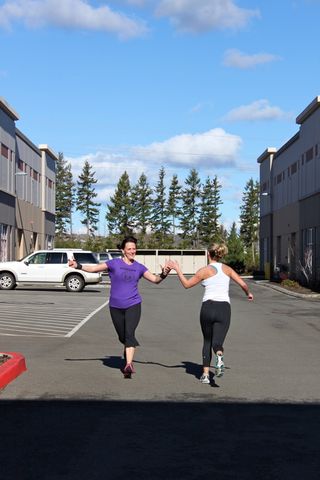 Speaking of high fives, it was that kind of a day. On top of great classes, PR's on hang cleans, and 3 people finishing Elements (Welcome to Hailly, Charles and Darawan); tonight Sean and Jenna (and Audrey) welcomed a baby girl into the world! Congrats and welcome to Brinkley! We can't wait to meet you.
Nan simply being awesome. Demo of the Hang Power Clean:
Notes:
"Jackie" tomorrow and Monday only for the "Stop the Slop" Performance challenge. Get in the box for your re-match.
Attention runners, tri freaks, and endurance nuts! You don't have to run, swim, and ride from sun-up to sundown every week. There is an alternate approach out there with proven results.
Read two articles: CrossFit Endurance in Triathlete Magazine and CrossFit: A Shortcut to Your Next PR?
 Mobility WOD to open up and get ready for some overhead movement: