Complete 100 Hang Squat Cleans (75#/55#) for time. EMOM: Stop and complete 5 push-ups
* Stop every minute on the minute (EMOM) and complete 5 push-ups. Continue with this rep scheme each minute repeating max reps Hang Squat Cleans and 5 push-ups until you total 100 reps of hang cleans.
Results
Mish on her way to 100 reps: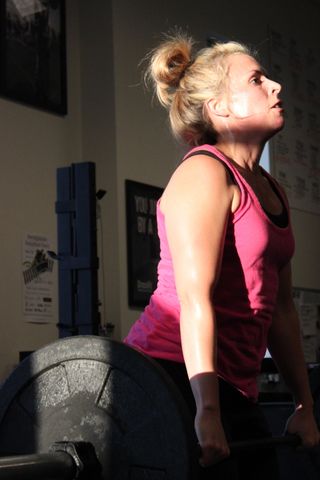 A few of us trainers made up this WOD on Sunday after throwing several ideas around. Wanting to do squat cleans with a fixed rep goal with a "penalty" that would get harder as time went on, this is what we decided on. Keeping it light meant you had to sprint, or else the push-ups would start piling up. This is supposed to be a sprint. Each minute your goal is to do fast reps until the clock hits 59 seconds and then you knock out those push-ups and jump right back into it. Pat demonstrated what a true sprint was by his shocking 4:44 time today on this WOD. Although I really shouldn't be shocked as this is the norm for him!
Steven and Lyndi and the Hang Clean: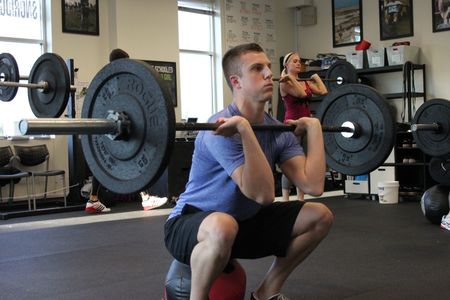 Notes:
Starting NEXT WEEK: Moe will be teaching a 6pm class on Monday and Wednesdays! What this means: The 5pm class needs to run ON TIME. Come late to the 5pm and expect to get a shorter WOD or just scale and move faster. Get in, get your warm-up done quickly and correctly, and get ready for "Go Time"! Stay tuned for more announcements.
How many fish oil capsules should you take? Find out here: Whole9 Fish Oil calculator
We are expecting samples from Barlean's this week of some of their high quality, kick ass, no stinky burping fish oil. Once it comes in we will put them out first come first serve. Free stuff rocks! We will then be taking orders and will be able to get it at a price that is sure to be cheaper than what you would pay locally. Pricing and ordering will be available in the gym soon.
Sean training hard for Colorado Springs and the 2010 CrossFit/USAW Open: