For Time:
50 Box Jumps (20″)
5 Rope Climbs (15′)
50 Kettlebell Swings (53#/35#)
50 AbMat Sit-ups 
50 Dumbbell Hang Power Cleans (40#/25#)
800m Run
50 Back Extensions
* Sub 20 Supine Ring Rows for Rope Climbs; sub Banded Good Morning for the "back extension" or run upstairs to do hip extensions on GHD.
Results
View this photo
View this photo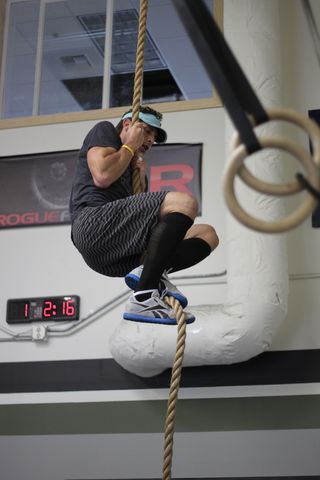 Quote of the day: "Let's get this over with. I've got some drinking to do." ~ Walt
No post tonight. We had our long overdue coaches meeting and things ran a little later than planned. See you all tomorrow. Plan to be awesome!
Missed the Regional workouts? Here they are (along with movement standards and demos): 
2012 Regional Workouts announced!