Strength WOD:
Front Squat 7×2
2/2/2/2/2/2/2
* Cristin's birthday is 7/2
Check Out WOD Immediately After:
As Many Rounds As Possible in 15 Minutes (AMRAP):
200m Run  
12 Kettlebell Swings (53#/35#) 
9 Front Squats (115#/75#)
Results
View this photo
View this photo
Cristin gives 2 Thumbs Up for her birthday two-fer: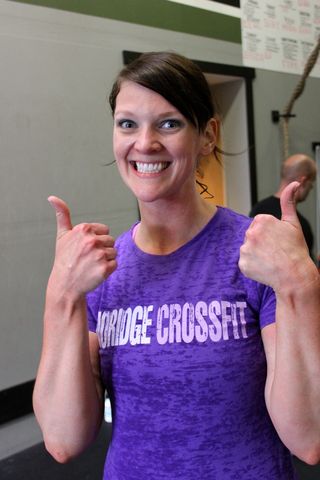 Gotta love the birthday WOD. Rather than go with Cristin's age this one used her birthday and then the checkout was designed using movements that she can do RX'd as she improves in her shoulder rehab. You can see the reaction above! If you want a birthday WOD make sure you let us know when it is so I can program it and fit it in for all to enjoy.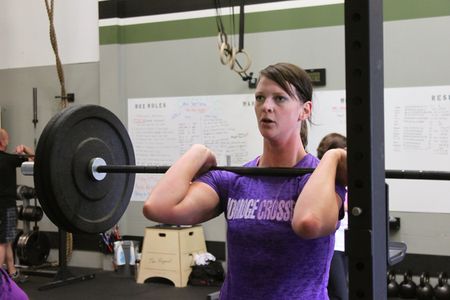 In CrossFit the "American" style kettlebell swing is the norm. This is the swing that ends overhead. In the sport and use of KB's, there are swings to eye level (Russian Swing) or shoulder level as well as other types movements. If you're curious to why we swing overhead, then read it here.
Don (below) shows a good "American" kettlebell swing overhead. Bell straight in line with the shoulders, hips and heels with no hyperextension of the back: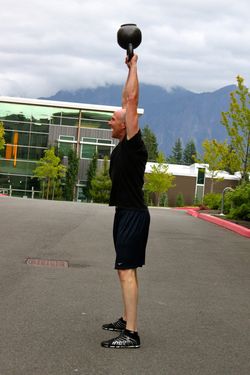 Notes:
Squatch Kids kicks off this Saturday at 0930 for Session II and we have a few spots available! If you haven't registered yet then do so at the below link. (If you have any issues let us know)
CF Kids Session II (ages 5-9)will begin on Saturday 7/9 and run every Saturday through 8/13 (we will be closed July 28 through August 1 for the CrossFit Games) for a total of 5 classes. 
Go here for more details.
Sign up online now at MindBody to purchase a spot

Log In to your account
Select Series and Memberships, then CrossFit Kids to purchase a session
Watch for the 411 on who to look out for at the CF Games: The Games Update II