AMRAP (As Many Rounds As Possible) in 15 minutes:
200m Run
10 Power Snatch (75#/55#)
9 Sumo Deadlift High Pull (75#/55#)
Results
View this photo
View this photo
Quote of the day: "The magic is in the movement, the art is in the programming, the science is in the explanation, and the fun is in the community." ~ Coach Greg Glassman (CF Founder)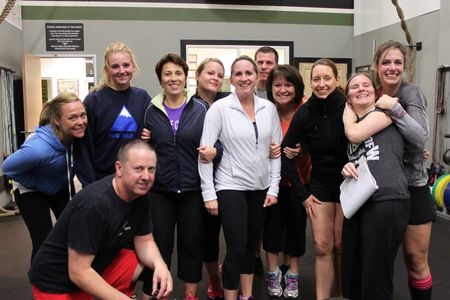 The birthday girl Laura (center) post WOD with some of the PM peeps. Hope you had a snatch-tastic birthday!
This week we are going to add a regular Friday 8:30 AM class. That means everyday Monday through Friday we will open at 8:30. Mark, Rona, and Michelle will be your coaches who cover these classes (varies by day). For those who like this early time slot get in and get your WOD on. 
Nutrition:
Primal Pacs: An Interview With Founder Matt Pierce by Whole9
Our friends Dallas and Melissa of Whole9 did an interview and feature on their site about Primal Pacs, a local Seattle based grass-fed and Whole30 approved jerky company. Primal Pacs are a regular in our house and a constant in my work bag. I also have some in my car and in my desk at work for those "on the go paleo-in-a-pinch / I am staring at break-room junk food crisis moments". When I hit that mid-morning hunger panic and need to stay fueled I grab one these. Beware eating any old beef jerky out there. 99% of it is junk. Primal Pacs however aren't. Give them a try if you want a balanced and healthy snack option. Read the interview for a free shipping code.
Silly Jeremy, bras are for chicks!