6 Rounds for time of:
11 Burpees
3 Thrusters (115#/75#) 
11 Kettlebell Swings (53#/35#)
3 Thrusters
Results
View this photo
View this photo (with an artistic demo of the WOD by Ashley)
The birthday girl: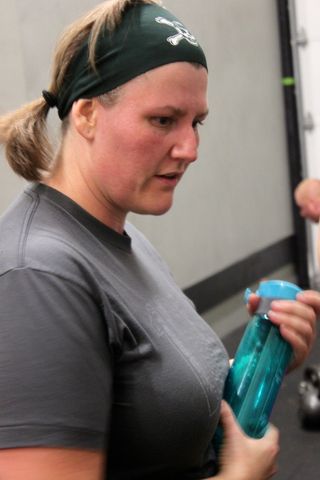 Happy Birthday Lorraine from the afternoon crew: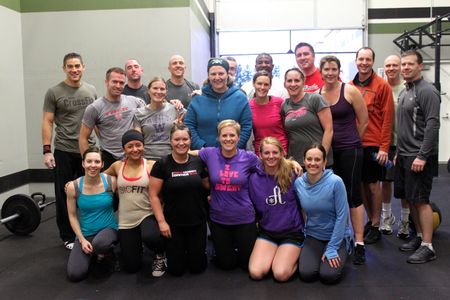 Reminder, if you are planning to attend the rowing clinic on Saturday then please sign up on the whiteboard in the box. The whiteboard regularly has upcoming events and announcements on it. Ensure you read it as we have several things coming your way! From the Rowing Clinic, to the Strongman, Turkey Trot, Paleo Holiday Potluck, CF Games Open and more; there will be plenty to do in the coming months. 
Speaking of whiteboards, I realize I am long overdue at updating the Leaderboards. This will soon change. I will be updating these over the next week. All Girl Benchmarks and Hero WOD's that have been done in the box will post the top 3 men and top 3 women's RX scores. Several need to be fixed as some times and scores have been beat.
What's a thruster? Here's 45 good examples of a blazing Fran time.
Talayna Fortunato's 2:26 Fran – video [wmv] [mov]

Runners! Read: The Once and Future Way to Run – New York Times