Compete 3 Rounds of 1 Minute of max reps of each of the following exercises:
Muscle-ups
Box Jumps (30″/24″ – 2011 Games Standard)
Power Clean (135#/95#)
Hand Release Push-ups
* Rest 1 minute between rounds
** Must stand up and open hips on top of box
Score total reps and reps per round
Results
View this photo
View this photo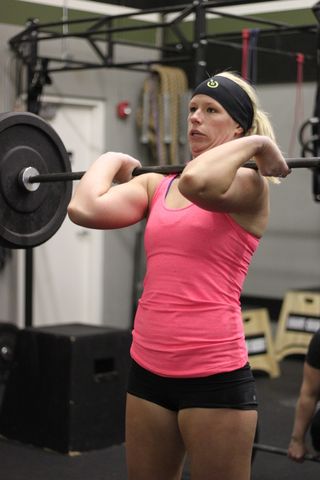 Maybe I should have called this "Meghann Gone Bad"? (Fight Gone Bad is one of her favorite WOD's). Happy birthday!
Remember: Talk to your coaches. Take care of yourself! Pay attention even though you may want to start the WOD and not wait for the explanation. Even if you are sure you don't have a question or need help, remember that likely there is someone else in class who needs that one tip, cue, or piece of instruction. Then proceed to KICK ASS! 
Notes:
Friday: 6pm Q&A upstairs about the 2012 CF Games Open for interested competitors; 7pm advanced RX test is full. Next test is Sat. 2/18.
Box League NW update: The 2/11 throwdown at CF Gravity Janes will have a team from SRCF! Thanks Rob for heading it up and organizing those who said they were interested.