Perform two consecutive AMRAP's (As Many Rounds as Possible) for 11 Minutes of each couplet:
11 Wall Balls (20#/14#)
11 AbMat Sit-ups
*1 Minute rest between AMRAP's 
11 Double Unders
11 Kettlebell Sumo Deadlift High Pull (53#/35#)
Results
View this photo
View this photo
Sangeeta (4th from right) with her belated birthday buddies: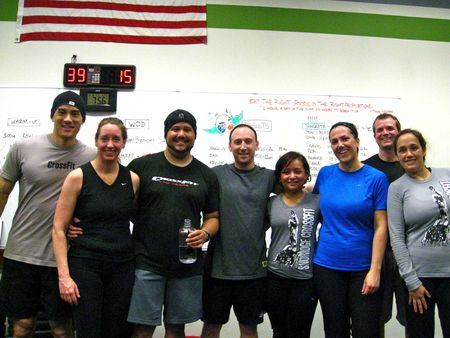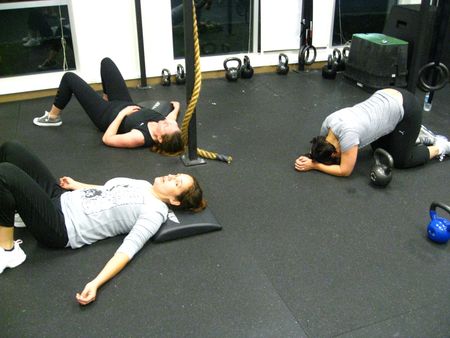 Happy belated birthday to Sangeeta. Hope you enjoyed your "present" from the SnoRidge gang. Consider the AbMats a gift!
Notes:
First 6am class was today with Moe. Tuesday and Thursdays will be on the schedule from here out. Take advantage of it! 
Here's a pic of today's early risers: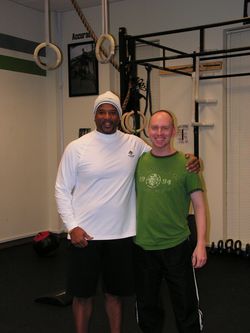 Paleo/Zone Nutrition Challenge officially starts Saturday. Commit to 7weeks of changing your life by eating right. Start shopping this week. The BodyFat Truck will be here from 7am to 1pm, sign up for a slot to get measured on the sheet in the gym. 
A big burpee welcome to Greg, Rachel, Jason, and Kim C. who started Elements with us this week! (Don't worry you all will learn to love burpees)
Moe, Sherry and Michelle training together tonight for the Sectionals: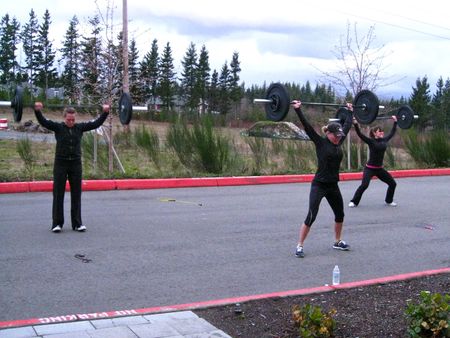 Watch the 2010 CrossFit Games Northwest Regionals Site preview: [wmv] [mov]
 Kurtis and Laurie of Rainier CrossFit describe the site for the Affiliate Team and Individual Regional Qualifiers in May. Note it is not the Sectionals competition which is in two weekends at the Evergreen State Fairgrounds, this is where Team SnoRidge will get to compete in May. For Sectionals we have Pat, Travis, Curtis, Sherry, Lucy, Lorri, Moe, Michelle and I competing and representing SRCF. Jana and Rona are volunteers and Bonnie is "Team Mom". How cool is that?