Strength WOD:
Deadlift
5/4/3/2/1/1/1
* Work up to 1RM (1 Rep Max)
Tons of PR's today in the house!
Check Out WOD Immediately After:
5 Rounds for Time:
10 Hollow Rocks
10 Supermans
10 Ring Rows
Results
Synchronized Ring Rows with Steph and Mariela: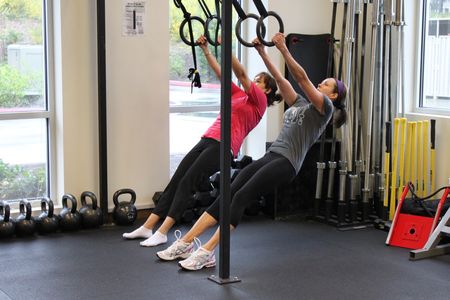 Scaled Superwoman for Prego's: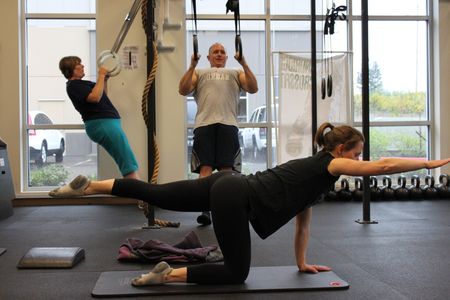 Core work today! Not "Abs of Steel" but a solid WOD with an emphasis on the hollow position, and instruction on the Hollow Rock, Superman and Ring Row. All important movements and when linked together are good for the abs and core stabilizers. These will be worked more often along with ring supports, L-sits and tuck holds, planks, bar hangs, kipping and other fun things to get those six packs working. Oh and Shoot-Throughs! 
Also Jana had a couple great ideas for our next challenge(s) that we will start in a couple weeks; the first being "Sit-up Challenge". Stay tuned!
Notes:
Go watch "Ring Dip Standards" from CrossFit.com [wmv] [mov] 
This will be the preferred method for RX. Shoulder below elbow, hip travel legit. Kipping is okay but you better have the strict ring dip in your toolbox before you pull out the kip. Practice pre or post WOD.
If you are planning to attend the 2010 CF Games Northwest Regionals on May 15-16th In Puyallup and want to volunteer along with Rona, Rob and Sangeeta go sign up here.