5 Rounds for time:
20 Box Jump (24″/20″)
20 Kettlebell Swing (53#/35#)
20 Kettlebell Sumo Deadlift High Pull (53#/35#)
Results
Rob rocking the KB Swing: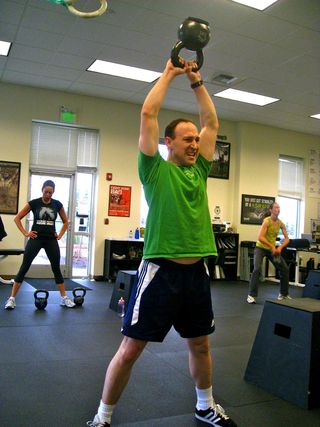 Short post tonight. If you are still in the push-up challenge its time to knock out 100 today! What what?!
Watch Gillian Mounsey (CF Games competitor and gymnast) tackle Fran back to back after putting on a muscle-up clinic for the Marines at Quantico, VA [wmv] [mov]
Off to Sectionals! Best of luck to all the competitors and congrats in advance on a great two days for the CF Community! (If you need info on the Sectionals see yesterday's post)
3-2-1 Go!