With a continuously running clock perform one Sumo Deadlift High Pull (95#/65#) every minute on the minute, adding one rep to the previous total each minute. Continue until you can no longer complete the required number of reps in that given minute. For example, complete 1 Sumo Deadlift High Pull the first minute, 2 the second, 3 the third, 4 the fourth and so on. 
Score completed rounds and partial reps. 
Results
Quote of the day from Pat: "I guess you can get cardio work in a workout like this."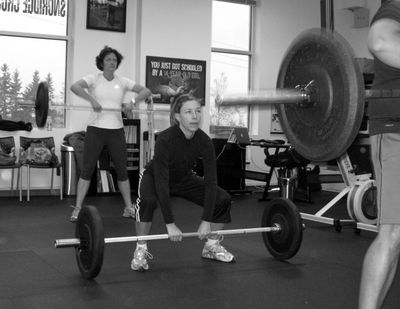 I love these types of WOD's. Early on there is this waiting and anticipation and disbelief that this will be all that challenging. Usually several minutes into it the wait time is cut in half and the heart is beating and the muscles fatiguing, so far so good. Then all of a sudden agony and the desire to quit suddenly settle in. It becomes a test to see how far you are willing to push yourself to complete that next to last round.You ask yourself "Can I squeeze out this round and get some more partial reps? Do I even care?"  Another example of how the WOD is always a test that determines your perseverance and willingness to overcome exhaustion and discomfort and not quit. 
Get those costumes ready! Our "Frankenchipper" Halloween WOD is next Saturday at 11am on the 31st! 
Speaking of Halloween, save those pumpkin seeds and roast them (170 degrees for 15-20 min. with light olive oil and spices you like). They are a perfect paleo snack! They are also extremely good for you. Pumpkin seeds are a very good source of the minerals phosphorus, magnesium and manganese. They are also a good source of other minerals including zinc, iron and copper as well as protein and vitamin K. They have been linked to promoting prostate health, increasing bone density and reduction in inflammation. Click here for complete nutritional information.
Having fun with the CrossFit kiddos: