3 Rounds For Time:
400m Run
21 Kettlebell Swings (53#/35#)
12 Pull-ups
Results
Progress Part 1:
Sherry got her first dead hang pull-up tonight (actually she got two)! Congrats to our first woman who learned pull-ups in the box! We are stoked!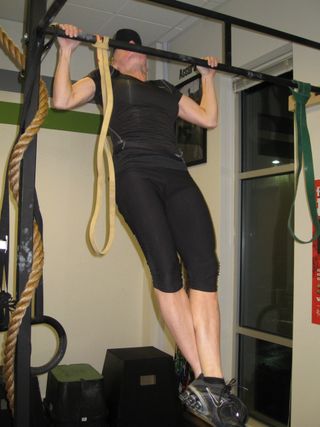 Progress Part 2:
Travis's first time with "Helen" in May was 20 minutes and change. Each round he ran 400m, scaled the KB to 44 lbs. and used a blue band for pull-ups. His second time with "Helen" in July was again with the 44 lb. kettlebell and a blue band for pull-ups. He shaved off 5 minutes and finished at 15 minutes plus.
Tonight was his third encounter. This re-match was fully prescribed. A 53 pound kettlebell, and kipping pull-ups. His time as RX'd? 12:50. That's progress. 
Progress Part 3:
Amanda, Bonnie, and Paul all moved to using bands tonight. Dan also went from band assisted pull-ups back in July to RX'd tonight with a top 3 Leaderboard time while Justin rocked this WOD RX'd after recently moving off the bands and learning kipping pull-ups to a number 2 on the leaderboard! 
Look around and in the mirror. You can find examples of progress being made in our box everyday.
Notes:
Saturday class is cancelled as we will be listening to Coach Greg Glassman (founder of CrossFit) speak at CF Bellevue. We will have a Friday 6pm class for anyone interested in starting their weekend with a WOD. Post to comments or let us know if you are planning to make it.