2010 CF Games Individual Event 2: "Pyramid Double Helen or Hell-in" [Men's recap / Women's recap]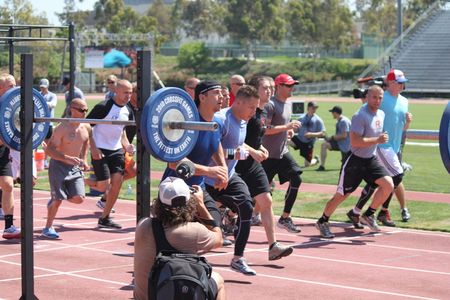 For time:
Run 1200 meters
63 Kettlebell swings (53#/35#)
36 Pull-ups
Run 800 meters
42 Kettlebell swings (53#/35#)
24 Pull-ups
Run 400 meters
21 Kettlebell swings (53#/35#)
12 Pull-ups
Top 2010 CF Games times: Men's – Graham Holmberg 16:59, Women's – Annie Thorisdottir 17:53
Results
Sangeeta reflecting on Hell-in:
This was definitely "HELL-in".  Appropriately named, reputation earned! This is a demanding workout both in terms of cardiovascular and metabolic conditioning. Essentially one giant chipper; the decreasing distance and reps represent the "light at the end of the workout". As the forearms burn the pull-ups begin to falter and grip strength and pulling power become a huge challenge along with the jackhammer in your chest. Simply willing yourself to keep running, swinging, and pulling is a battle in and of itself.
Fight Gone Bad V is coming!
If you are reading this please consider signing up and creating your own fundraising page. This event (we also did FGB IV last September with CF Redmond) benefits Livestrong, The Wounded Warrior Project, and the CrossFit Foundation. Read more here. The money that CF Affiliates across the country raise will go towards cancer research and the CrossFit Foundation (which benefits military, law enforcement and first responder communities with fitness equipment assistance). 
Raise $150 and you will receive a limited edition shirt. We plan to host this on a date in late September (TBD) as the official date of 9/25 conflicts with a cert we will be at. Have no fear though we already have approval from them to pick a different date. So register, pick "SnoRidge CrossFit" under team name and get started fundraising! 
Warrior Dash is coming! 
Several of us have mentioned or have already registered for the supposedly "most insane obstacle race" in America. Doubtful however it looks like a blast. Date is 9/12 in Oregon and times are filling up. Some of us are registered for the 11 – 12 heats. If interested click here. Let's get a good group to go down, put on our Viking gear and run through fire, mud, and water!
Notes:
Tomorrow class is 10am and 11am. Post to comments if you are in for the 10am as first 8 will get prioirity. It's Day 5 of our "Week of the Games" and will be an Affiliate Cup Event.
Want to see a CrossFitter easily pull over 600 lbs. on a deadlift? Watch Dave Lipson pull 651! [wmv] [mov]