Main Class:
"2 MInute Defense – Team"
Teams of 2 alternate rounds and complete 10 rounds each for time:
1 Power Clean (135#/95#)
3 Hang Squat Clean
2 Push Jerks
100 Ft. Sprint
or 
"2 MInute Defense – Solo"
Complete 5 rounds for time, Rest 2 Minutes, Complete 5 rounds:
1 Power Clean (135#/95#)
3 Hang Squat Clean
2 Push Jerks
200 Ft. Sprint
Score total time (including rest)
Advanced RX Class:
"Holbrook"
U.S. Army Captain Jason Holbrook, 28, of Burnet, Texas, assigned to 1st Battalion, 3rd Special Forces Group (Airborne), based out of Fort Bragg, North Carolina, was killed on July 29th, 2010 in Tsagay, Afghanistan when insurgents attacked his vehicle with an improvised explosive device. He is survived by his wife Heather Holbrook and his parents Joan and James Holbrook. 
10 rounds, each for time of:
5 Thrusters (115#/75#)
10 Pull-ups
100m Sprint
Rest 1 Minute
Post time per round 
Results 
View this photo
View this photo
"Fran" Briefing at the CF Level 1 Seminar at Rainier CF: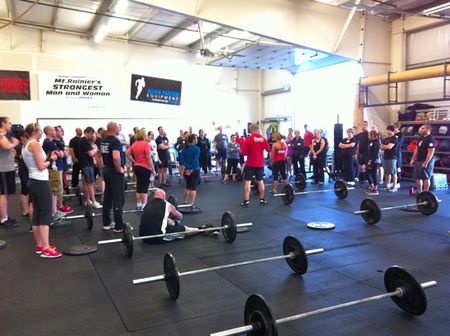 Day 1 down at the Level 1 Seminar and Lucy, Amy, Rob and Lena are all having fun and kicked Fran's ass. Lorraine also went to Ergomania Indoor Rowing Championships and crushed it with a 2k Row PR in 7:44! That's smoking fast!