Main Class:
Teams of 2 complete for time:
Chin Over Bar Pull-up Hold
60 Hand Release Push-ups
Deadlift Hold (225#/155#)
1000m Row
100m Run
80 Kettlebell Swings (53#/35#)
Overhead Bumper Plate Hold (45#/25#)
100 Squats 
* One bar per team, Partner 1 begins with the hold (or run) while Partner 2 begins completing the required number of reps. (ex. Partner 1 holds Chin Over bar while Partner 2 completes HR Push-ups. Swap when partner 1 drops from bar)
** Switch when Partner 1 cannot maintain the hold position (or when Partner 1 returns from the 100m run) 
*** Alternate until the task is done and move on.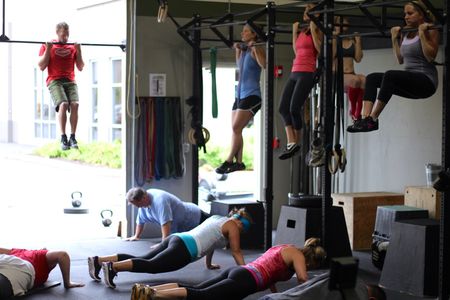 Advanced RX Class:
Hang Snatch (High Hang) *Heavy but perfect
1/1/1/1/1/1/1
Mini "Nate"
As Many Rounds As Possible in 10 Minutes of:
2 Muscle-Ups
4 Handstand Push-ups
8 Kettlebell Swings (70#/53#)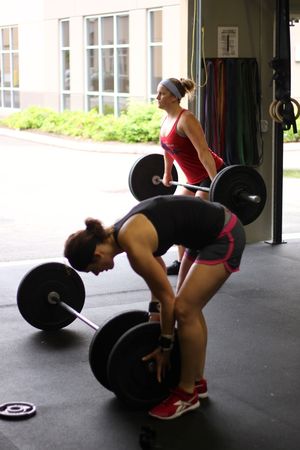 Results
Please read the schedule notice for July above. We have different class times for the 4th of July Holiday as well as the 11th-17th.
Saturday Fun Day:
Sunday 7/1 is our Paleo Potluck! Be there!
Paleo Potluck In the Park Day
When: Sunday, July 1st (2-6pm)
Where: Centennial Fields in Snoqualmie; we have reserved the covered picnic shelter that afternoon.
What to bring: Share a dish, bring your own meat to grill, and bring the kiddos to play in the park.
Welcome to our latest OnRamp class who passed their "final exam" today (our last OnRamp until August):