Strength WOD:
Deadlift
3/3/3/3/3
Check Out WOD Immediately After:
5 Rounds for Time of:
10 Hollow Rocks 
10 Good Mornings (45#/33#)
10 Push-ups (Hand Release) 
Results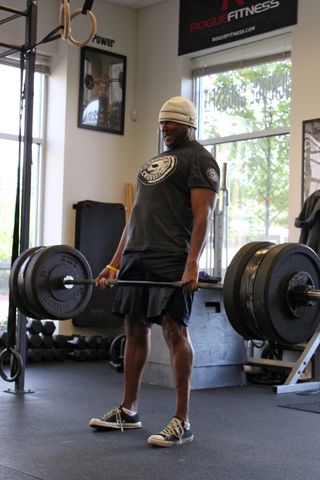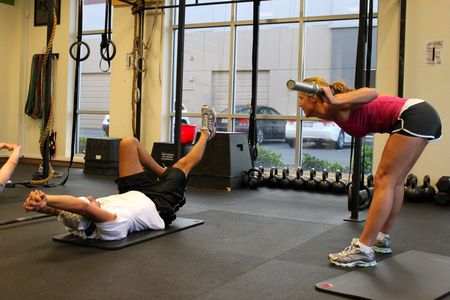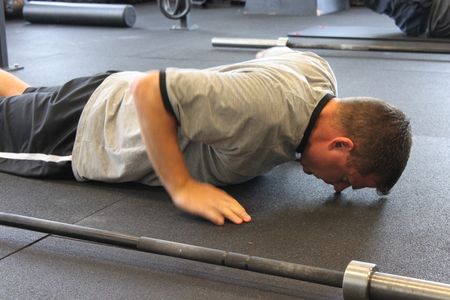 Coaching tip:
The Hollow Rock is an exercise that strengthens the hollow position commonly used in gymnastics and gymnastic movements. 
It is essential for good handstands, levers, planches and also trains a desired finish position for the trunk with overhead presses and jerks. 
Squeeze your abs towards your belly button and tighten the glutes and abs together. 
Maintaining the "hollow" will help in several movements and learning how to stay "tight" will protect your lower back, spine, and trunk.
Hollow Rocks, Jeff Tucker [wmv] [mov] "It's that easy!"
Notes:
Tomorrow night at Rainier CrossFit from 6:30 to 8:30pm they will be hosting a nutrition discussion with Todd Widman. We cannot recommend enough the importance of nutrition. Starting down the right path is a step in the right direction and can lead to a successful lifestyle change of good nutrition eating real, clean food. Learn about how to eat healthy (read: Paleo Diet) and fuel up properly. Cost is $10 and a couple hours. The payoff is invaluable.
This past weekend Bridget and Cathy represented SnoRidge and completed the Metro Dash in Seattle as part of Team Bombin Mommas with Northwest CrossFit. This CrossFit style race benefitted the Navy Seal Warrior Fund and had obstacles and challenges that the teams had to complete throughout the course. Their team completed the course and the WOD's along the way in 1 hour and 29 minutes. Way to go ladies!