Strength WOD:
In 15 minutes complete:
2/2/2/2/2 Deadlift 
* "Touch and Go" Reps; not singles x 2
Checkout WOD:
5 Rounds for time of:
9 Deadlifts (135#/95#)
6 Hang Power Cleans (135#/95#)
3 Front Squats (135#/95#)  
* 8 Minute time cap
Results
View this photo
View this photo
Jeremy teaching the deadlift: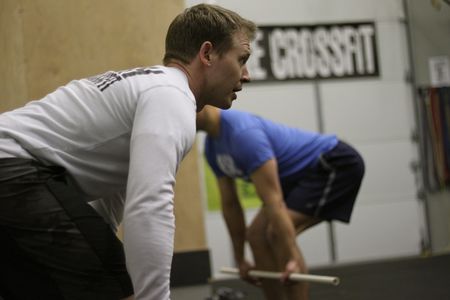 Good coaching on the deadlift today and lots of PR's. Many of you learned some finer points for getting tension in the hamstrings and posterior in the set-up and pulling with the correct shoulder position to avoid the "D-Bag shoulders" look. The checkout was capped to ensure you went fast and unbroken as much as possible over just going heavy. The hook grip saved the hang cleans and without it meant too many extra reps.
CF Kids Teens Session #2 starts up tomorrow!
"Game-Day Nutrition" with Matt Chan, CrossFit Journal preview video [wmv] [mov]
Kristan Clever's 540 Reps on 12.3: CrossFit Games