Main Class:
"Anyway Overhead Anyhow"
As a Team of Two, men lift 11,000 lbs. and women lift 7500 lbs. anyway overhead for time:
Choose one barbell load from below weight options, then alternate with each partner to complete (use clean and jerk, snatch, thruster, etc.):
Men:
96 Reps Anyway Overhead (115#)
116 Reps Anyway Overhead (95#)
147 Reps Anyway Overhead (75#)
Women:
90 Reps Anyway Overhead (85#)
119 Reps Anyway Overhead (65#)
167 Reps Anyway Overhead (45#)
* One bar per team. One works at a time. Split up the reps as needed.
Advanced RX Class:
"Isa-Grace"
For time:
30 Power Snatch (135#/95#) 
30 Power Clean and Jerk (135#/95#) 
* Combination of the benchmark WOD's Isabel (30 Snatch) plus Grace (30 Clean and Jerks)
Results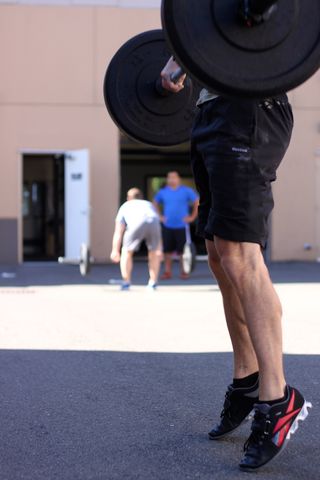 Summer is winding down and you can definitely tell it in the gym. As the sunny and warm days seem to dwindle into the single digits and school buses are right around the corner almost everyone is out taking advantage of it.
This leads to the upcoming Labor Day weekend schedule. As it is the end of summer and likely will be very low in attendance we will be adjusting our schedule for the upcoming weekend.
We will be closed on Monday September 3rd
For Saturday Sept. 1st we are still determining the class schedule. Stay tuned.
Nutrition: