"Pain is temporary. Quitting lasts forever." ~ Lance Armstrong
This post is a quick example of just one of the great things that makes CrossFit so much more than a fitness program or type of workout. This example is about the community. The group of like minded people who suck up the brutal fun and cheer one another on. The community of us that come day after day and push away the butterflies and never quit. The community that helps coach one another, calls us on form both good and bad, reps both short and perfect, all while wearing a smile on their face and high five after the WOD. The very same community that knows we never quit. We finish what we start, we fight back the inner voice and trudge along, and when one thinks about it we remind them not to.
During Saturday's WOD of deadlift/runs Mariela was subbing back squats for deadlifts due to a broken finger (an injury she had sustained outside of the gym). During the final 800m run the throbbing in the finger due to increased blood flow from exercise as well as the movement of running was causing some pain. The pain was enough to have Mariela openly consider quitting. Before I could really respond, Mark (who had just completed the same WOD) jumped in and encouraged her not to quit. He did it positively and with sincerity. I remember him saying "One lap left, you can't quit. We don't ever quit. The pain is only temporary." He then told her to run or walk with her hand hooked on her shirt to prevent it from swinging and just to get it done. Mariela quickly changed her mind and moved off to finish the WOD with her final 400m lap, pushing away the impulse to quit. She earned that workout and finished what she started. 
We have all been there. If you haven't, I guarantee you it will cross your mind. At some point in some WOD you will think, "Screw this. I just want to quit." Then you will think of one or more reasons why you should quit. It is hard to quiet that voice. It is even harder when you are alone. Much harder. Having been a CF'er that did it on my own for almost a year in my garage; I can tell you doing this by yourself is not remotely easy. In my experience, besides lacking coaching and instruction, training solo either drives most to quit or to not push to the limits that can come from training with others. Being around others in CrossFit who share the "Check your ego at the door" mentality is motivating. It's contagious even. It makes you want to do better by yourself and for others. It makes you count, keeps you honest, makes you stronger and certainly makes you strive to be better. Just think how many of you have PR'd a lift, ran or rowed a little harder, or eked out a couple more reps simply because someone was in your ear. 
So thank you both Mark and Mariela. Mark for the reminder that we don't quit and Mariela for finishing what she started. It was a great example of the CrossFit community and something that made me feel like we have a really strong one in our box. For that I am both proud and grateful.
Mariela telling me what she really thinks of back squats: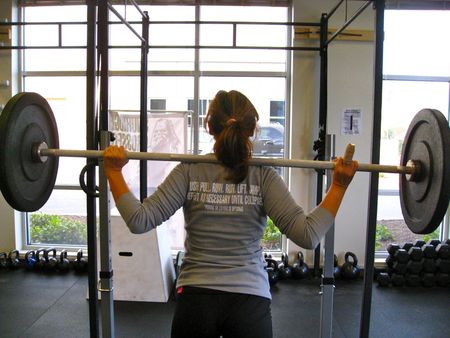 Mark and his barbells: