AMRAP (As Many Rounds As Possible) in 20 Minutes of:
1000m Row
35 Back Squat (95#/65#)
44 Double-Unders
35 Push Press (95#/65#)
44 Box Jumps (24″/20″)
35 Toes-to-Bar
44 Burpees
800m Run
Results 
View this photo
View this photo
Happy Birthday(s) "Ja-Manda"!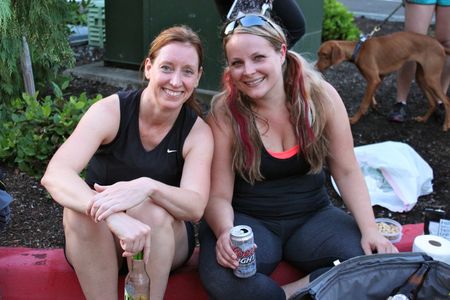 Quote of the Day:
"To me I think whenever I see CrossFit on somebody's shirt I can just go walk up and shake their hand, and it might be a little calloused when they shake mine back but that to me signifies that they have been able to go and push themselves and will apply themselves not just in fitness but will apply themselves in life. Cause I think that's what makes this community what it is; it's the fact that it brings together those people who are ready to go and show up for life. People who are ready to go and better themselves and everyday aren't gonna let all the excuses and victimhood mentality of the woe is me and everything else get in the way. " ~ Kyle Maynard: No Excuses CrossFit
Today was an epic birthday mash-up for Jana and Amanda which ended the day with some cold beers outside with the birthday girls for the ones who didn't feel ill after the workout. This workout was meant to feel like the Filthy Fifty and I think it did by the end. I wanted to add a special thank you on behalf of the 7pm crew for doing the wave during the 800m run. That and the "coaching under the influence" was extra special for me. Happy birthday to you both and it was awesome how you organized drinks and put some extra fun into the "Brutal Fun"! Tomorrow we pick back up with "A Week of the Girls".
Amanda and Jana working hard and goofing off for time:
It's Beer-Thirty: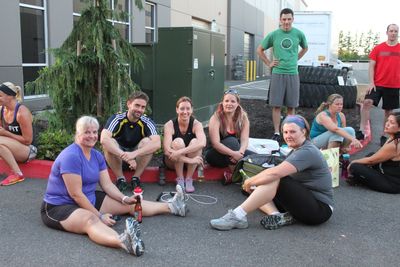 Great read: CrossFit: Where Navy SEALs and Pregnant Soccer Moms Help Each Other Get Ripped