For Time:
1000m Row 
50 Thrusters (45#/33#)
30 Pull-ups
Results
Day 44 of the Burpee Challenge. As I type this I realized that I forgot to finish them at the gym. Be right back…
…and done! Whew! Only 6 days to go.
The night crew getting really serious about this WOD: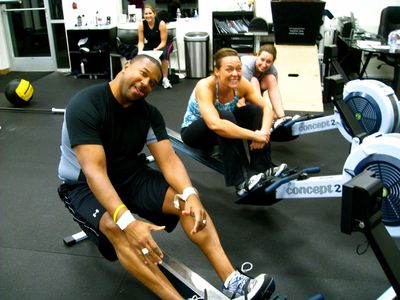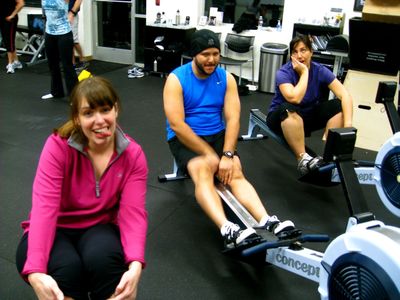 Who likes Jackie? Anyone? Anyone? Bueller… Bueller? This one looks easy to some before trying it that first time and then you get off the rower and realize right then that the Earth isn't flat and the moon isn't made of cheese. The forearm burn from this one is similar to Fran and even Bridget got the dreaded "Fran cough" afterwards. Which also reminds me that Jim C. sent something he found on the CrossFit.com forum regarding the cough that was pretty interesting. To counter that post super-intense WOD cough, try to continue right after the WOD to move and work at a mild intensity to decrease the effect. Do some sit-ups or squats or jog a 200m if you can summon the willpower. I'll try it next time so I don't hack like a smoker.
Here's a video on "Jackie" of some of the CrossFit HQ Training Staff vs. Greg Amundson AKA the "Original CrossFitter":
Oh and if you think you need a rest day, then you probably need a rest day. That's a future topic to address but rest and recovery is as important as intense training and nutrition. Overtraining will get you nowhere fast.
Notes:
Post to comments if you are attending the 10am or 11am Saturday class. First 8 fills the 10am. For the Affiliate team plan to come Saturday at 9am.
Do you want to get better at Olympic Lifting? We are able to get 12 people into a hour and half session at Thrush Sports Performance Center in Sumner WA on January 16th at 3:30pm. TSPC is a first class Olympic Lifting gym that has hosted basic clinics for CrossFitters on ways to improve their O Lifts. The session will be led by John Thrush and his staff and focus on the various cleans, front squat, jerk and snatch and correcting form. Both Michelle and I have been able to attend and felt the instruction was beneficial and translated to better technique. Cost is $75 per person payable to them. There are only 6 spots left so post to comments if you are attending. Six spots have been filled by our affiliate team already (Lucy, Lorri, Travis, Curtis, Jeremy, and Jim C.) so let us know if you want in for sure.
Shirts are in so if you ordered them come get them. If you want one and missed out we will be submitting an order for more shirts with the Brutal Fun design and including hoodies and thermals. We also have some extra "Squatch Swing" shirts from this order.
Bonnie has volunteered to be our Affiliate Team "Mom" or "Pit Crew" for the upcoming sectionals. She will be using my spectator spot. If you are planning to compete be sure to thank her for being willing to put up with all of us b*tching and moaning about two days of WOD's! Also if you are registered but are not using your free spectator spot please let us know.