For Time:
40 Overhead Walking Lunges (45#/25#)
6 Burpee Box Jumps (24″/20″)
30 Overhead Walking Lunges
12 Burpee Box Jumps
20 Overhead Walking Lunges 
18 Burpee Box Jumps
10 Overhead Walking Lunges
24 Burpee Box Jumps
Results
Clint and Leslie tackle the box and bumper: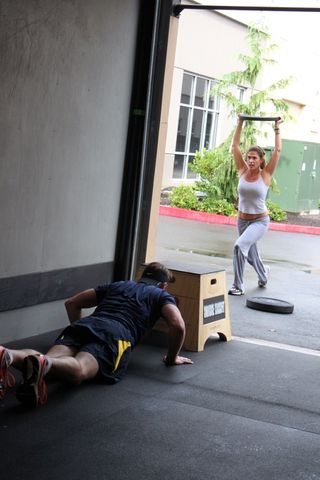 Ever feel like quitting a WOD? How about making an excuse not to go to the box? When it's really hard like in the middle of a "Hero" WOD have you ever been tempted to bitch about it?
Guilty. I have FELT that way many times. BUT while I have felt that way I have never done it. My rules: 1. If I plan to train then I train. 2. If I start a WOD then I finish. All of it. 3. Last rule? If it's a Hero WOD then I never, ever complain or quit as that would disgrace the memory of the man it is dedicated to. 
Watch this demo of the benchmark "Cindy" workout by the Again Faster Adaptive Athlete Team. It should motivate and inspire as well as remind us that those veterans who sacrificed so much would probably do anything to have what they lost back. Being an Army vet as well as Michelle and I both growing up in military families makes this video especially meaningful. These guys clearly don't quit. They modify, scale and adapt to their challenges, and they all CrossFit like the rest of us.
"Cindy" WOD Demo with the Again Faster Adaptive Team – video [wmv] [mov]
Ronda and Dan pressing and lunging: