5 Rounds For Time: 
50 Ft. Barbell Overhead Walking Lunges (45#/33#)
21 Burpees
* Let your trailing knee gently kiss the ground on each lunge
Results
Quote of the day: "I pay for this?!" ~ Cathy mid burpee
Cathy and Jello Legs: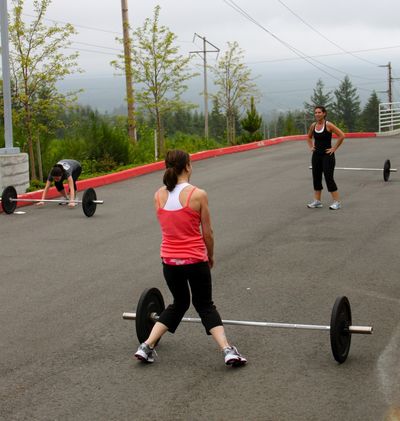 What's tougher than walking lunges? Overhead weighted walking lunges. What's even worse than that? Adding burpees! This main site WOD is a classic hard hitter. Who's quads are feeling happy?
Coaching tip: The Barbell OH Walking Lunge with Adriana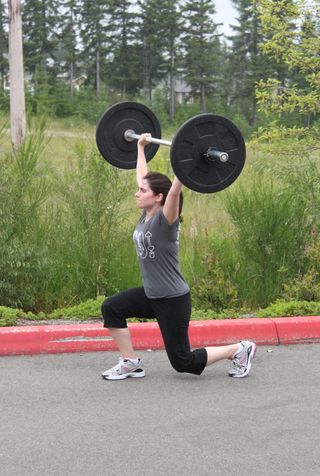 Barbell overhead in a wide grip (either snatch/OH grip or push press grip)
Active shoulders
Look straight ahead
Lunge forward, keeping knee behind the toe box
Trailing knee gently kisses the ground
Step long and through continuing this pattern
Rest in place with barbell on the ground; not continuing to walk forward
This fires me up! Watch "Death by Clean and Jerk" with Mikko Salo, CrossFit Journal Preview video [wmv] [mov]
Notes:
Saturday schedule: "Awesome" practice will be held at 9am and 10am tomorrow. 9am is full, 10am is open! Come celebrate Moe's birthday with a WOD…
Do you take Fish Oil? We are working with Barlean's to get more info around pricing for group orders. Let us know if you are interested as they have great quality fish oil (both adults and kids). 
You asked for it! Literally! Want to know what is sugar or artificial sweetener? Or how it is cleverly marketed and packaged into what we eat? Want an easy list to identify them? Whole9 took the suggestion from our workshop (can't remember who asked) and posted about it. Read Whole9's "Sugar = Sugar = Sugar"