Strength WOD:
2-2-2-2-2
Snatch Balance
Conditioning WOD:
"Jeremy"
21-15-9 Reps of each exercise for time of:
Overhead Squat (95#/65#)
Burpees
Results
View this photo
View this photo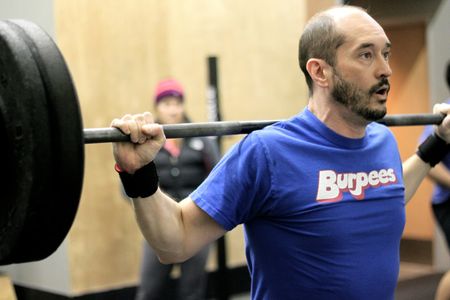 Three year old Jeremy Bloniasz lost his life in a tragic accident Thursday, July 6th, 2006. To Jeremy's parents, Kelly and Jeremy, the entire CrossFit family offers our deepest sorrow. In young Jeremy's honor the following kid's workout will be known from here on as "Jeremy." ~ CrossFit.com
 This tribute WOD is not a "Hero" WOD in the traditional sense in that it honors a soldier, sailor, airman, marine or first responder. It instead honors the life of a boy who left his family far too soon in 2006, and it led to a bigger effort in the CrossFit community by CFHQ to promote awareness of preventing infant and child drownings. Over time the version evolved to be done with a 95# or 65# barbell for adults, and broomsticks, bars or somewhere in between for kids.
"Developing Strength for the L-sit" with David Durante – video [ipod] [mov] [HD mov]
"Constantly Varied Kitchen: Twice-Baked Sweet Potatoes" with Nick Massie, CrossFit Journal video [ipod] [mov] [720 HD] [1080 HD]
Next Week's Schedule: 
Thursday 11/28: CLOSED on Thanksgiving Day. No classes!
Friday 11/29: 0930 and 1030 class only
All other days/classes will follow our normal schedule