Happy Birthday Jess! (10/11/10)
10 Rounds for time:
11 Deadlifts (185#/135#)
10 Calories Rowing
Results
Quote of the Day:
Nan to Jess, while rowing: "Is this your birthday?"
Jess: "Yes."
Nan: "I'm mad at you."
Today was Jess's birthday WOD (a little early) since she was back in town visiting from Canuck-land. Jess is part of our lulu-crew but lives in Canada now so we were stoked that she wanted to come to SRCF to get her sweat on with the rest of us while she was in the area.
October is gonna be a busy month for birthday WOD's. If you have a birthday in Oct. or Nov. make sure you write it on the whiteboard so we can get to work on your present!
* Party is included with each birthday gift and takes place in the box…
Friends that WOD together, stay together: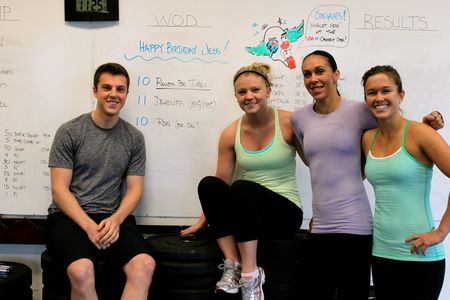 Notes:
Saturday WOD tomorrow at 10am. Be there or be lame.
One week left until "Amazing Grace" on 10/16 at King CrossFit. If you aren't sure what it is check out the link on the right of the page. This will be our first official box field trip! No permission slip needed, just register and get your clean and jerk on.
Skills and Drills:
"Rope Climbing Prerequisites" by Adrian and Kim Bozman of San Francisco CrossFit [wmv] [mov]
Work on your hollow position, it will help make you strong for almost everything!
"Transitioning CrossFit Movements into Elite Skills: Pt. 2" with Carl Paoli – Preview Video [wmv] [mov]